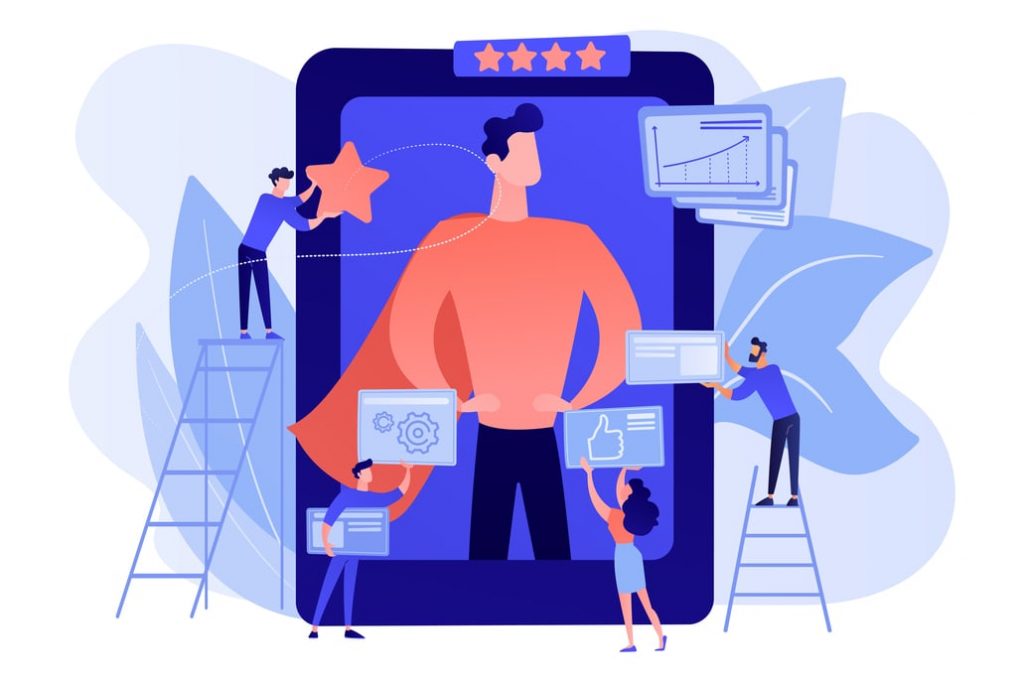 First of all : what is CRM software ? A CRM Software is an application that assists a business owner in customer relationship management. The CRM system stores data on every customer which ranges from the status of the transaction that a customer made, to the latest interaction that you had with the client.
The CRM system stores the contact of your customers and can also store data of your employees. Some of the best CRM software allows the business owner to track the process of a transaction and even send reminder emails to customers who did not complete their purchase.
With the advance in technology, the CRM system now provides the option of customizing it to suit your needs. It could be that your enterprise wants to focus on marketing or improving customer relations. The CRM software can analyze and predict market trends to help you understand the possible market for your products or service.
The CRM software can be installed on your premises where it will be managed by the IT department or can be installed in the cloud hosted by CRM providers.
The List of 10 Best CRM Software
So below is the list with the best cheap CRM systems and CRM online. Remember that everyone in the list below offers free trial. That can range from 14 to 30 days.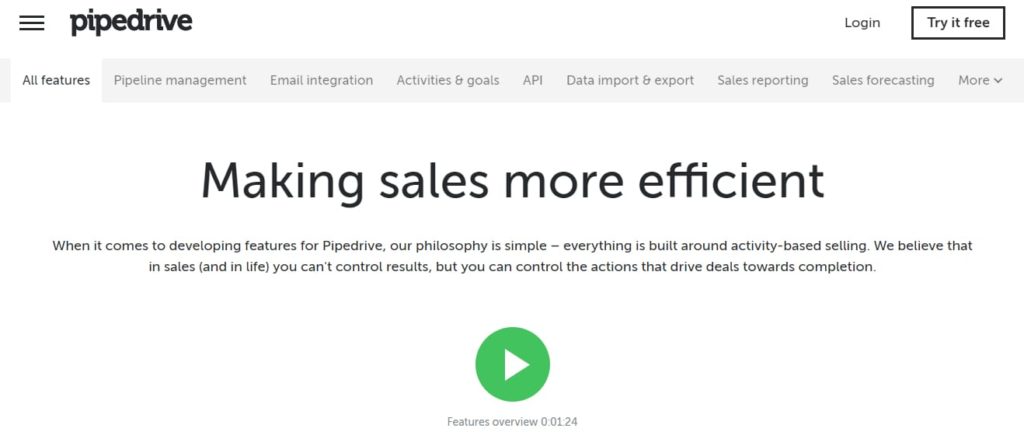 Pipedrive contact management software is what you need to improve the sales output in your business; small scale business or large scale business. It has a user interface that is easy to use and maximizes on visuals. Although the user's face is simple, it has a touch of elegance. The software also provides the option of customizing to suit your needs. It automatically tracks your calls and the progress of the call giving you room to work on other things.
Pipedrive has a single view of activities thus simplifying the tracking of your sales process for the whole team. The software displays the active deals of the day in a compelling visual presentation.
The price starts at $ 12.50 per monthly subscription (Billed Annually).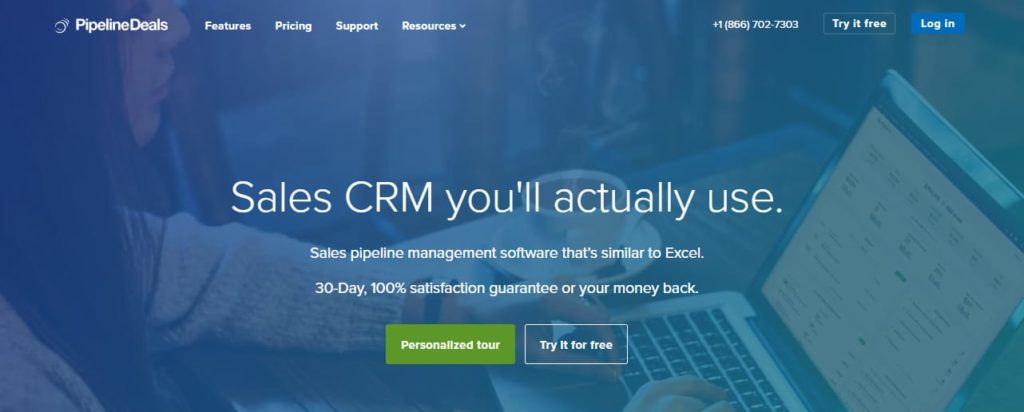 PipelineDeals sales software has a simple to understand user interface and offers free support on the mobile phone. It also provides the option to customize it. All CRM tools are displayed in a single view one at a time. This saves you time since you do not need to navigate the page to find you active sales deals.
Besides, it enables the business owner to share the progress of the sales with the employees, therefore, improving transparency in the business. Pipeline software also tracks the customer emails and shows you those who download your content and who leaves it.
You can get the standard pipeline at $ 25 or the "grow plan" at $ 49.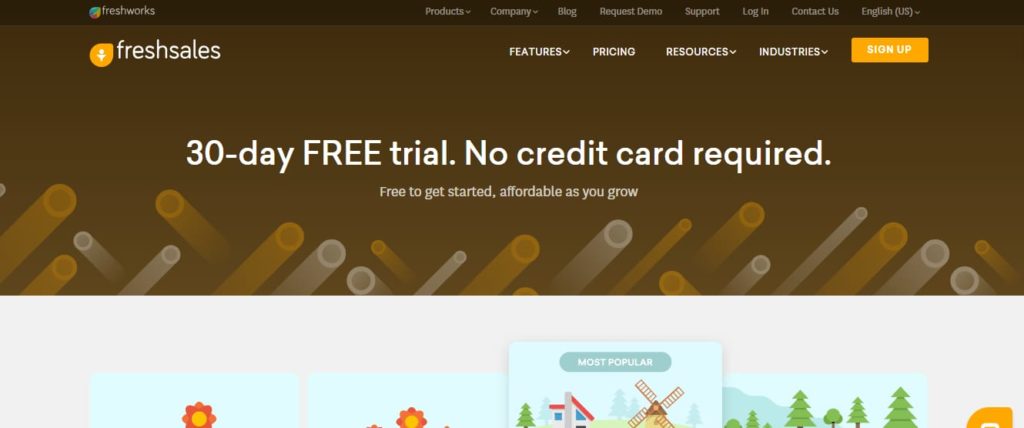 FreshSales is one of the best customer relationship management system that allows the business owner to observe the emails of the customers. It's provide real-time alerts when a customer has opened an email and what their cause of action is, concerning the purchase of a product. It comes with an in-built phone and email that improves the client's contact management.
The software highlights the customers who show that they are ready to buy the product. It has a deal card that allows you to observe the progress of your sales deals and set up meetings, all from one click.
The application is in three packages; "Growth, Pro and Enterprise" at the price of $29, $69 and $125 per month respectively.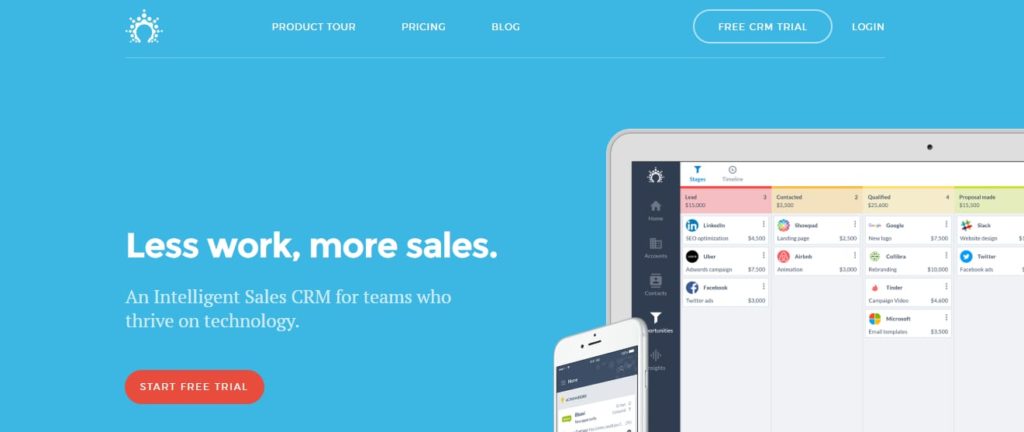 If you are tired of entering data every time you have a new customer, this application is what you need. SalesFlare collects your customers' contact information from the emails, social media profiles, and the email signatures. These contacts are then displayed on the address book. This eases the data entry process saving you up to 70 percent of your time.
This system synchronizes your calendar and phone calls and logs meetings and phone calls for you. It organizes documents for you making them easily available on the CRM platform. Sales flare also allows you to integrate other sales tools, therefore boosting your productivity. This application is perfect for large business enterprises.
Price ranges from $29 to $99 per month.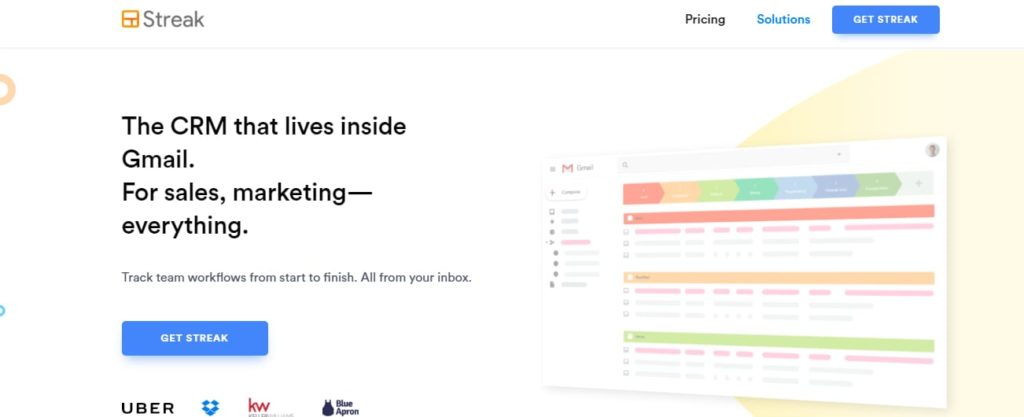 This CRM software works in Gmail making it easy to access. It is able to organize all your sales deals and displays them on your Gmail page. You can be able to customize the system to your preferred taste. The design is attractive and draws clients to you.
Streak CRM stores data of all your clients and displays potential customers in one single view. The set-up is a step by step process making it easy to install. It allows you to specify what you would like to track be it sales deals or market trends. This option can be changed at any point.
It has one free plan and 3 paid plans going for $15 to $ 129 per month paid annually.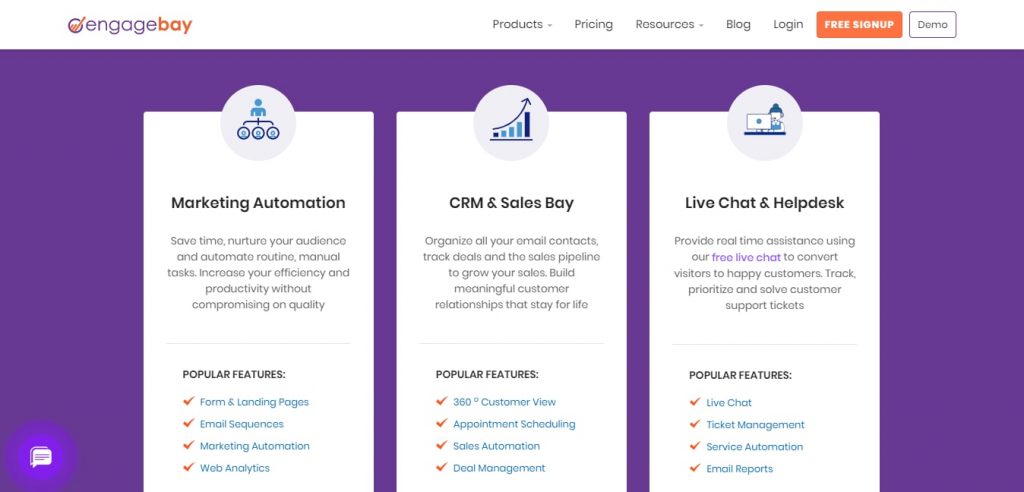 Often having a software for each thing can be laborious and also raise your costs. This is where EngageBay can be very useful, offering an "All-in-One" marketing solution. By subscribing to one of your plans, you have access to a CRM / sales platform, marketing solution and Help Desk software.
With a very intuitive administration panel, this CRM software is recommended for people who need a complete marketing solution and also offer support for their existing and future customers. Some features are: sales tools, lead and deals management, project management and more.
At EngageBay you can use for free, with a plan limited to 1000 contacts and emails. For more contacts, your plans start at $ 8.99 / mo for the All in One solution.

This CRM platform has a user friendly interface. The program allows the business owner to assign projects and track the progress of these activities. It has a visual sales tool that allows you to manage and close sales deals within a short time. TeamWave enables you to digitize your employee records and get the feedback in real time.
It is also interactive and allows discussions between the sales representatives and the clients. Information on price estimates, invoices and customer contact information can be accessed at a click of a button. It also enables integration with applications like Dropbox and G.suite, therefore organizing all your documents.
It has a free trial plan and one basic plan that cost $39 per month.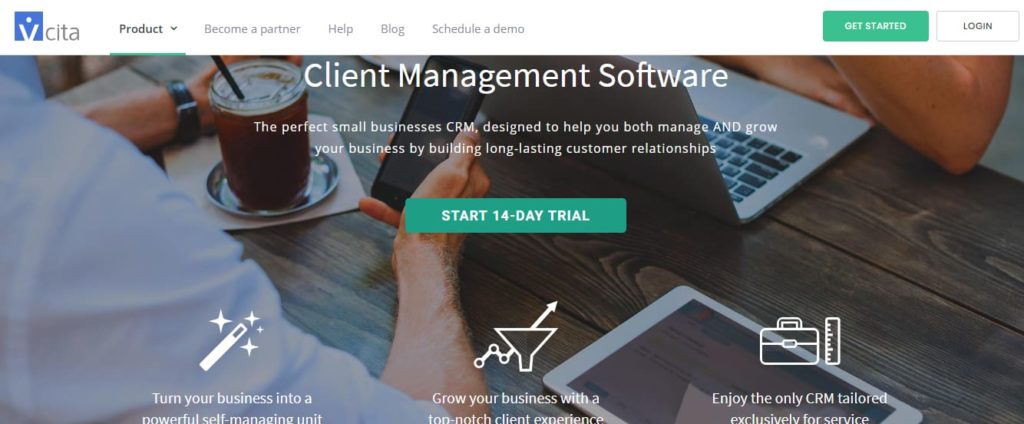 Vcita is uniquely designed to be a best CRM for small business. It eases the management of your business schedule by synchronizing your meetings and appointments with your calendar. Vcita allows clients to schedule appointments or sign up for classes online and also enables them to pay for products online using PayPal and credit cards. This can be done through the personalized client portal.
It also issues an automated reminder to your clients on payments relating to credit cards and coupons. It further racks the payment process and issues invoices, estimated pricing and receipts to your customers. Vcita provides customized tools for your website making it more attractive and attention-grabbing.
It has four paying plans ranging from $19 to $75 per month billed annually, varying according to the team size.

The HatchBuck CRM software is uniquely set up for small to medium size businesses. It provides automated email marketing and sales and marketing features. You can track existing and potential. It captures client information from outlook and linked in and can carry company information from the company's website.
The user can also set up automated emails to specific groups and use these to track sales and marketing campaigns. It operates on the IOS and can serve a wide range of businesses from hospitality to real estate. You can customize the look of this customer relationship management system from the 450 available templates.
Hatchbuck has five plans: free, core, pro and enterprise costing $79 (core), $99 (pro), and $199(professional) per month respectively.

Agile CRM is an affordable customer relationship management tool. It has modern day features, allows integrations with other application and has an easy to use user interface. The CRM system allows the user to track sales deals, promote marketing messages and track service provision all in one platform. It has the gamification option which enables you to spice up sales deals with competitions.
It also synchronizes your calendar, allowing customers to set up appointments. Offering also live chat when answering customer questions. The Agile CRM allows the user to create an automated email and social media campaigns using a flowchart.
The application in three packages, the starter, regular and enterprise plan that sells for $ 14.99, $49.99 and $79.99 per month.
Base CRM software has a simple and streamlined user interface that offers only the relevant sales deals for your business. This narrows the focus of the sales representatives and the management to specific deals, hence improving the productivity of the company. It has an automated mail system and stores the contact history of each customer.
This allows the business owner to follow up on individual customer needs, boosting customer satisfaction. It has a document storage system that is integrated with dropbox and Google documents. It has a customer intelligence tool which allows you to see the number of opens on an email or latest calls.
There are three plans ; starter, professional and Enterprise priced at $49, $ 79 and $99 per month.
For Which Types of Business are These CRM Systems Indicated ?
Basically, this post shows the best CRM tools for any type of company. Below you can see our list some of these functions :
Medium & Small Business
Nonprofits
Realtors
Real Estate
Individual Entrepreneurs
Contractors
Call Centers
Sales Reps
Property Management
Startups
and more; Photographers, Gyms, Colleges, Sales, Accountants, Recruitment, Financial Advisor, Healthcare
Choosing the Best CRM System for Your Business
Having looked at this CRM software review, you can note that different CRM systems suit different people depending on the size of the business. If you are a small startup, then Streak is the best CRM software. This is because it offers the free plan that can guide you before you have the resources to subscribe to a better plan. If you run a large business and have available resources, then Hatchbuck and Agile software could be best suited for you.
Pipedrive is the best contact management software that will aid you in selling products from a personalized point of view. However, if your preference is a simple user interface that gets the job done, then try PipelineDeals and FreshSales systems.
These CRM apps are updated from time to time and are aimed at improving your sales and marketing through CRM marketing. Try any of the applications reviewed above to change your sales and marketing and boost the productivity of your business to impressive heights. Frequently upgrade your plan to access more features.
Opinions of Some Clients About the Best CRM tools
So here are some user reviews of the tools listed on this page.
"Great CRM Software"
First of all, simplicity. As a small business without a lot of resources, Pipedrive's simple setup helped us get started, and we'll always be grateful for it. Email integration is absolutely incredible, especially when integrated with Google Apps, which eliminates the need for CRM BCC and logs incoming email messages. Once the initial configuration was done, we started to grow the Pipedrive API, which is very complete, easy to use and well documented. The API compensates for all the features that are missing and can be found in other "larger" CRM software. There is nothing you can not achieve with some development effort. ⭐⭐⭐⭐⭐
Pipedrive User
Ariel S.
"Best Small Business CRM Software"
I like that you can customize almost everything on Pipelinedeals. It's good to see if people have read your emails or not. You can see how many times the customer has opened an email. I also like to be able to keep all my sales models on the portal side of the connection. Having my email connected to the software makes the program much more effective. ⭐⭐⭐⭐⭐
PipelineDeals User
Alexandra B.
"Perfect CRM for Medium to Large Businesses"
It seems to have improved quickly. You will see that there is a combination of each CRM sales in one. Anything relevant to a contact can be found on the page in detail. Your interactions with others who are not on your contact list are automatically added to the leads. Each organization is well represented as an account for a seller to continue reselling. Maintaining relationships with people connected to this account. ⭐⭐⭐⭐
FreshSales User
Ujjwal A.
"Smart and technological sales software"
Salesflare works great with Gmail. You add the extension and then have a panel to the right where you can manage your contacts, tasks, and leads. Additionally, you can easily see the stages of communication with a single contact, instead of having to search in Gmail for any communication. And of course, you have the ability to open email, so you can see when important emails have been received. In addition to the Gmail plugin, there is also the browser version that gives you excellent visibility into your opportunities. ⭐⭐⭐⭐
SalesFlare User
Adam N.
"Excellent tool for Gmail"
I love many things about Streak CRM software, however, some of the most useful features are that I can see if someone read my emails, how often they opened and the mail merge feature also saved me a ton of time . ⭐⭐⭐⭐
Streak CRM User
Stephanie W.
"Great features"
I provide business management consulting to optometrists. All my work is done through appointments and emails. VCita perfectly syncs my calendar and lets clients schedule when I'm actually available. Before vCita, I spent a lot of time suggesting times, getting voice messages, etc. In addition, they've done a great job of enabling a full-featured "site" that is easy to set up and super customizable. I think for many companies it would be enough to be the landing page. ⭐⭐⭐⭐⭐
Vcita User
John S.
Font : Capterra/ G2Crowd. More reviews on Capterra and G2Crowd
If you liked this post, do not forget to share on your social networks – WPOneapp
Icons made by Freepik from www.flaticon.com
Another subjects
Was this guide helpful ? Leave a comment.