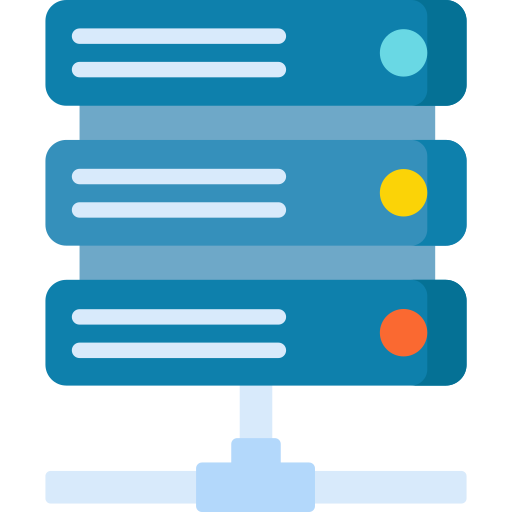 Well, you're using shared hosting, until your site starts growing and receives a lot of traffic. This is the time when things start to go wrong, the website hangs, stays off the air and you think: what to do ? The Answer : Cheap VPS Hosting ! Yes, shared hosting can be good when you just start a website or create a small website.
But if you really want to build a bigger project, you need a Virtual Private Server. But what is the best hosting provider for virtual servers today ? Which are the cheapest ? Which has the best features and support ? So here in this message you can see which are the best and cheapest VPS providers.
If you still have questions about what Virtual Private Server is, you can find useful information at the end of this page.
Best Cheap VPS Hosting Services – Windows & Linux
Below is a list of the best cheap VPS providers to buy in 2023 "reviewed & compared", chosen by WPOneapp (servers for America, Europe, Asia, Oceania, Africa and the Middle East). And also read our brief review of each and the comments from customers.

(4.9 / 5)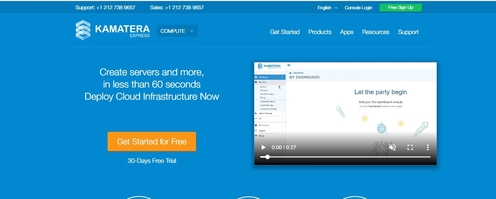 24/7 Technical Support
SSD Storage
99.95% up-time guaranteed
No single point of failure
Windows & Linux operating system edition (100+ OS images)
13 data centers in 4 continents
Price start in $4.00 per Month
Configuration : 1vCPU, 1GB RAM, 20GB Storage and 5000GB Mensal Traffic
Server Locations : United States, Canada, Israel, Hong Kong, United Kingdom, Germany and Netherlands
30 days free trial
"VPS Servers with Cloud Infrastructure & highly customizable" – Kamatera
Technology has gone a step further, and we now have companies that offer cloud VPS hosting services. As I was looking for a reliable company that provides cloud VPS hosting services, I came across the Kamatera. The company has more than 12 data centers that are situated in 4 continents. Kamatera cloud servers also support Windows and Linux operating systems.
The services offered by the company are also very reliable. Additionally, when signing up for the first time, the kamatera cloud servers issues a 30-day free trial.
After looking into the features of the Kamatera cloud servers, I could easily conclude that these might be the fastest servers across the world. It's make use of the fastest Intel Xeon gold processors that are 300% more powerful than processors from previous generations. The Kamatera cloud servers also offer 40GB for both private and public networks. The networking speed is also very fast when dealing with the servers and the internet.
Other cloud hosting VPS companies make use of HDD whereas kamatera cloud servers make use of SSD (Solid-State Drive) storage. The SSD technology guarantees high speeds, and it is also a reliable storage system. If you are looking for a suitable cloud VPS hosting service provider, you should opt for Kamatera cloud servers; they guarantee quality services.

(4.9 / 5)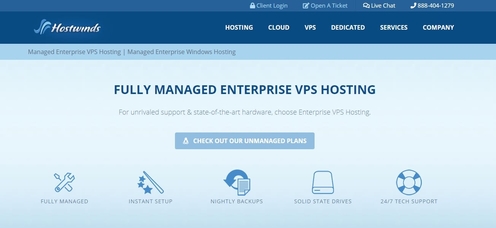 100% Satisfaction Guarantee
Support 24/7
99.99999% Uptime
Night Backups
Free Website Transfer
DDOS Protection
Snapshots & SSD VPS
Cheap VPS/ Fully Managed
Linux VPS : start at $ 4.99 per month (unmanaged Linux) and $ 8.24 per month (fully managed Linux);
Windows VPS : starts at $ 10.99 per month (unmanaged) and $ 12.74 per month (managed) ; 1-core processor, 1GB of RAM and 30GB of storage.
Data Centers located in the United States and Netherlands
Up to 30% OFF for new users
"Cheap & Managed VPS Hosting" – Hostwinds
This is undoubtedly one of the best VPS hosting providers in the world. Founded in 2010, Hostwinds has as a principle, to take the satisfaction of its customers in 100%. So much so that one of his best qualities is the excellent customer service. They offer web hosting services, cloud hosting, dedicated servers and VPS.
For those who offer fully managed VPS hosting, Hostwinds is certainly one of the cheapest VPS providers on the market. Based on Linux / Windows and with 99.99999% uptime guarantee, it sure will be the choice of many. Remember that they still give you a 100% satisfaction guarantee. Well this really indicates that your hosting services are great.
Prices for managed VPS servers start at $ 8.24. If your choice is for unmanaged hosting plans start at $ 4.99. Based on what your customers say, Hostwinds is certainly able to fulfill its satisfaction guarantee.

(4.8 / 5)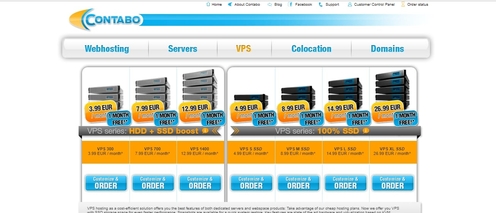 Windows or Linux VPS
DNS Management; DDoS Protection
Full Access to Root
Support 24/7
Cheap Virtual Servers
IPv6 Support; 100% SSD
Awarded as best server in Germany
Start at $ 5.99 per month (Linux VPS)
$ 14.98 per month (Windows VPS)
SSD NVMe VPS start at $ 6.99/month
Configuration: 2-core processor, 4GB RAM, 300GB of disk space and unlimited traffic
Setup Free for Annual Plans
Servers located in Germany, United States and Singapore
"Inexpensive & Great VPS Provider European" – Contabo
Contabo, as well as other services on this list, has been on the market for 15 years. Founded in Germany, it started with the name of "Giga-International", offering only website hosting. Over time, it has grown and acquired several awards in its history. With a strong customer base in Europe, today one can say that this is one of the best web hosting services.
Apart from the common hosting, Contabo also offers dedicated servers / VPS and domain registration. Here's something to say, since their VPS hosting is one of the cheapest on the international market. Their prices start at $ 5.99 for Linux and $ 14.98 for Windows. The administration panel can be Cpanel / WHM, Plesk, Webmin or LAMP.
Contabo's data centers are located in Munich and Nuremberg (Germany). Today they have clients in various parts of the world and according to the opinion of some of them this is one of the best VPS hosting providers. If you sign the annual plan, they will give you 1 month free.

(4.8 / 5)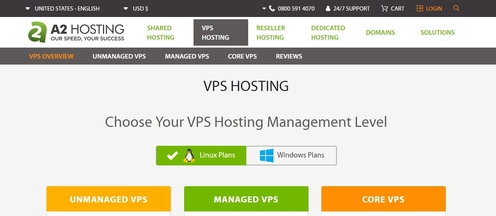 Uptime: 99.9%;
Support: 24/7
Control Panel: Cpanel or Plesk
Root Access;
Free SSL and SSD
Refund Guarantee at any time
Managed and Unmanaged VPS Server
Up to 20 times faster
Free Site Migration
Linux VPS : starts at $ 4.99 (month) (unmanaged VPS) 1 GB RAM, 150 SSD Storage, 2TB of traffic.
Managed VPS : starts at $ 33.99 (month), (3 years plan) 4 GB RAM, SSD storage: 150 GB, 2TB of traffic.
Data centers are localized in Singapore (Asia), Amsterdam (Europe) and Arizona, Michigan (America).
51% OFF for Managed VPS
"One of the Best VPS Hosting with Many Features" – A2 Hosting
This is the hosting we use here in WPOneapp and we want to show this to you. They offer up to 99.9% uptime, servers up to 20 times faster and as a customer I can tell you that this is one of the best accommodations I have ever encountered. This may not be the cheapest hosting provider, but the quality of the service, the stability of their servers and support are worth more than anything.
But what I really like about A2 Hosting is undoubtedly the speed of its servers. It's something that really makes me happy on a hosting site, besides, it's very rare that my site is down, and if so, it's for a few minutes. This makes it clear that your uptime is excellent.
This provider offers both managed and unmanaged VPS servers. You can also choose the Windows and Linux operating system. Their prices start at $ 4.99 (linux) for unmanaged VPS. For managed VPS hosting plans starts at $ 33.99 (Linux). A2 Hosting also offers VPS in the cloud (fully customizable).

(4.7 / 5)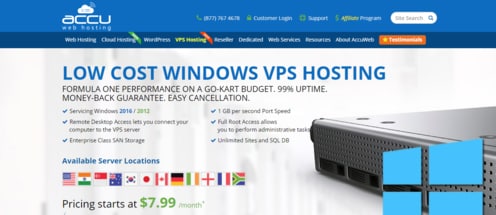 Windows or Linux VPS
Cloud & SSD Servers
24/7 Support
Guaranteed Resources
Full Root Access
DDoS Protection
Low Cost Virtual Servers
Semi-Managed Support or Full Managed
Unlimited Databases
Money Back Guarantee
Linux VPS : start in $ 7.99 per month (anual plan; self-managed) – SSD VPS from $ 10.99 (anual plan; fully managed)
Cloud VPS (Linux) : from $ 9.99 per month – 1vCPU, 1GB RAM, 40GB Storage.
VPS Windows : from $ 9.99 per month (anual plan; self-managed) – SSD Windows VPS, from $ 12.99 per month (anual plan, fully managed)
Forex VPS (fully managed) : from $ 12.00 per month "anual plan" or $ 15.00 "monthly plan"
Servers located in United States, India, South Korea, Singapore, Australia, Japan, Canada, Germany, Ireland, United Kingdom, France and South Africa
"Several low cost VPS server options" – AccuWeb Hosting
Accuweb hosting is an international web hosting company with over 14 years of experience in this field. The hosting company has a fairly large customer base. One of the highlights of this provider is the amount of services and options for their products. It is also evident that the company has servers in various places around the world, covering almost every continent. Here you will find VPS servers, Cloud, dedicated servers, reseller, shared hosting, WordPress and more.
Its managed VPS servers are among the most affordable on the world market, starting at $ 10.99 for "fully managed" VPS. For Linux VPS servers there are 3 options: common (unmanaged), managed SSD and Cloud, with cheaper plan prices ranging from $ 7.99 to 12.00 per month. Remembering these are for annual plans (monthly plans have a value of 10% to 20% higher)
Already Accuweb hosting Windows VPS hosting has 5 types, these are: common $ 9.99 (unmanaged), VPS SSD $ 12.99 (fully managed), Cloud, Reseller and Forex Trading VPS. Initial plans for Windows VPS plans range from $ 9.99 to 115.00 (reseller).
Well, this is perhaps the provider with the largest variety of servers on our list, with good customer reviews, many years of experience and very cheap for managed servers.

(4.7 / 5)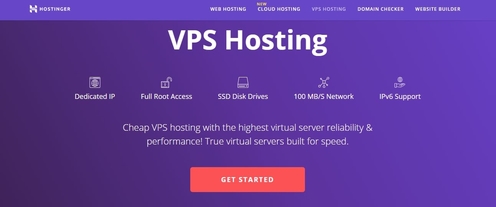 99.9% Uptime; 24/7 Support
30-day warranty. Instant refund
SSD disk space; Full access to the root
Cheap Cloud VPS Hosting
Dedicated IP with IPV4 and IPV6
VPS Price start at US $3.95 (month), 1 GB RAM, 20 GB storage and 1 TB bandwidth.
Data centers in North America, Europe and Asia
Get up to 70% OFF
"Affordable Linux VPS Servers with SSD & IPV6" – Hostinger
Hostinger is perhaps the best known hosting provider on this list. Founded in 2004, this is another service with years of market. According to official information, millions of users use this provider. One of the great successes of Hostinger in the past and the present was to offer a free hosting plan forever (obviously very limited).
This was certainly one of the main reasons to be known around the world. In the same way as they have grown, the quality of the service provided has also increased, because according to the assessment of many customers, this is one of the best hosting services on the website and at an excellent price.
Like other providers that are known in the market, they offer a wide range of services. Shared hosting, WordPress, Cloud hosting and Cheap VPS hosting are some examples of Hostinger's services. Perhaps the only type of hosting that is lacking here is dedicated hosting.
The Hostinger virtual servers are one of the cheapest servers. These are based on the cloud and are only offered on Linux (there is a Windows subscription, but this is only available for Brazil). Their prices start at $ 3.95 (month) with 1 GB of RAM, 20 GB of storage space and 1,000 GB of bandwidth. That is why this provider is not only known, but also offers excellent service. If you are looking for a good and affordable VPS server, Hostinger should be able to provide a great service.

(4.7 / 5)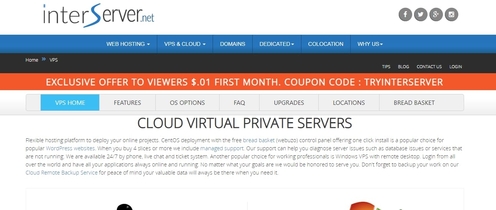 Windows & Linux VPS Servers
Instantaneous Settings ;
Multiple Operating Systems
OpenVZ or KVM; Activity Time Tracking
SSD Virtual Server; 99.9% Uptime Guarantee
Hundreds of Applications for your VPS
DNS Manager; Support 24/7
Start at $ 6.00 per month (Linux Server)
$ 10.00 per month (Windows VPS) ;
1 GB of RAM, 25 GB of disk space.
Data centers localized in United States
"Cloud Infrastructure"
"Cloud Virtual Servers with OpenVZ or KVM" – InterServer
Interserver is a company that has been in the market for about 20 years. With a quality service and good support, it has won many customers over time. In the same way that time passed, this provider also grew. And today, they offer some types of services like: web hosting, VPS, dedicated servers and Cloud.
With data centers located in the United States, Interserver VPS servers are offered on Linux and Windows. Its structure is based on Cloud. This is perhaps one of the virtual server providers that you can call "good and cheap." Their prices start at $ 6.00 for VPS linux, for Windows servers plans start at $ 10.00.
For the initial plans there is 1GB of RAM, 1 core processor, 25GB of storage and 1TB of traffic. If you are looking for cheap and good VPS hosting, maybe giving the Interserver a try might be a great idea.

(4.6 / 5)

Real 24/7 support; Unlimited bandwidth
Specialized in WordPress;
100% uptime guarantee
Fully managed VPS servers;
Cloud Computing
SSD Server; Ubuntu OS
Cheap Linux VPS hosting
VPS From $ 10.00 (month) 1 GB of RAM; 30 GB of disk space; Unlimited traffic.
Data centers in North America
Get 33% off the 3-year plan
"Fully Managed Linux VPS Hosting" – DreamHost
With more than 400,000 customers at DreamHost, this is another hosting provider with more than 20 years of life. Over the years it has gained a great reputation and today Dreamhost is officially recommended by WordPress.org. The services are shared hosting, WordPress, VPS hosting, dedicated servers and cloud computing. Yes, we know they are good, but what about your virtual private server ?
The DreamHost VPS servers are fully managed and only offered on Linux. They guarantee 100% uptime, unlimited bandwidth and 24/7 support. In my detailed research on this provider, I noticed that customers praise the quality of the service and the price, since it starts at $ 10.00 (easier plan, 1 GB of RAM and 30 GB of storage).
Well, if you are looking for one of the best virtual servers to buy, Dreamhost is definitely recommended. Especially if you want to use WordPress because they have a strong cooperation with this CMS. Perhaps one of the best things about Dreamhost, whether it's the way they offer their VPS subscriptions (cheap, managed and great features). So for those who offer a fully managed service, this provider is probably one of the most affordable plans.

(4.6 / 5)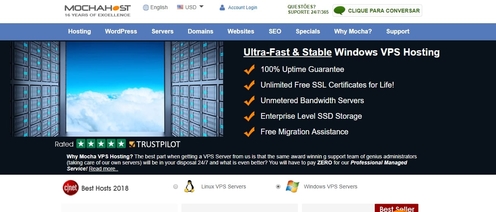 Managed or unmanaged VPS servers
100% uptime guarantee; Free SSL Certificate
SSD Storage; High Speed Warranty
Malware and Spam Monitoring
Support 24/7; Free CDN
Unlimited traffic (from plan 2); SSH / root access
Lifetime Discount (few hosting services offer this)
Linux VPS : starts at $ 7.98 per month; 1GB of RAM, 1 Core Processor, 40GB of SSD storage and 500GB of traffic.
Windows VPS : from $ 11.68 per month; 1GB of RAM, 1 Core Processor, 60GB of SSD storage and 1TB of traffic.
30-day money-back guarantee (plus 180 days without risk of loss)
Take up to 55% OFF
"Affordable VPS Servers with Exclusive Features" – MochaHost
Getting the best VPS hosting is certainly your goal. This is certainly one of the characteristics of MochaHost. Launched in 2002, this is one of the great hosting services this year. They offer varied products like: web hosting, VPS, dedicated servers, reseller hosting, domain registration and more.
With a strong partnership with CloudFlare, MochaHost is proud to offer a global service. Already your VPS servers are sure to be one of the best and cheapest on the market. Here you can choose between Windows and Linux, with optional management if you wish.
The prices of hosting virtual servers starts at $ 7.98 per month. With 100% uptime guarantee and a wide variety of features MochaHost certainly deserves to be on this list. So is MochaHost good ? Good, based on customer reviews, this provider guarantees an excellent hosting service, but maybe you can sin a little bit in the support.

(4.4 / 5)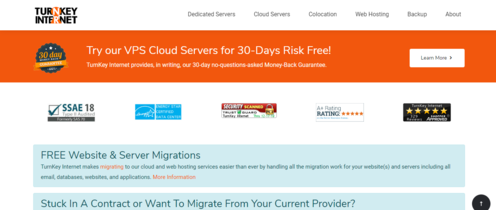 100% SSD
Windows or Linux VPS
Free Migration Assistance
100% uptime guaranteed
Panel: Cpanel, Plesk or DirectAdmin
100% Guaranteed Resources
30 Days Money Back Guarantee
24×7 Phone and Online Support
VPS Windows & Linux Price : start at $ 4.99 per month ($ 13.00 per month for Windows server)- 1GB of RAM, 1CPU Core, UnMetered Bandwidth, 5 GB SSD Storage
Managed Cloud VPS : start at $ 49.99 month ($ 44.99 anual plan) – 4CPU Cores, 4GB RAM, 40GB Storage
Data centers in Los Angeles and New York – United States
"Top Cloud VPS with SSD, KVM & 100% Network Uptime" – TurnKey Internet
TurnKey Internet is another company of web solutions that has stood out in recent years. Founded in the United States, the provider is already around 20 years in the internet and server hosting. Today they offer website hosting, Cloud VPS, dedicated servers and a few more addons.
With a data center located in New York and California, it offers a solid, reliable and uptime structure. They have two types of vps hosting. The first is Cloud VPS (self-managed) priced at the cheapest plans starting at $ 4.99 per month (this is one of the most affordable VPS plans we've found). The second option is for those users who do not want to worry about managing their virtual server. Fully managed VPS servers start at $ 49.99 per month (this comes with 4GB RAM and 4 Color CPUs).
Good if you want self-managed servers, TurnKey Internet may have one of the cheapest options on the market. Already, if you are looking for a fully managed server, their prices may not be the most pleasing (this is because they do not offer an entry option, but this can be solved with a custom plan).

(4.2 / 5)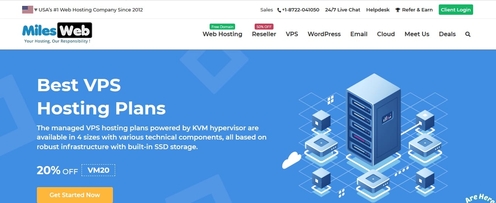 KVM Virtualization;
Managed VPS
Full Access to Root
Cloud Infrastructure; SSD Storage
Free VPS Migration;
Cpanel or Plesk
Server by AWS and DigitalOcean
(Linux) KVM VPS from $ 7.50/month "annual plan"; 2vCPU, 2GB RAM, 50GB SSD Storage, 500 GB Bandwidth
Fully managed VPS start at $ 9.00 per month (Linux); 2 vCPU, 2GB RAM, 50 GB SSD
For Windows VPS prices start at $ 13.50/month annual plan; 2 vCPU, 2GB of RAM, 50GB of storage and 500GB of traffic.
Servers in Asia, North America, Oceania and Europe
"Best Cheap VPS India" – MilesWeb
This is undoubtedly one of the best server hosting providers in India. MilesWeb has been offering hosting services since 2012. Its goal, they say, is to offer a fast, simple, reliable and accessible service to everyone. Certainly customer support is perhaps one of its great merits. Its services are VPS, dedicated servers, common hosting, cloud hosting and reseller.
When it comes to MilesWeb VPS hosting, there are two types. The first are their Linux VPS servers, fully managed. With prices starting at $ 12.00/m, the servers are located in New York, San Francisco, London, Bangalore, Singapore, Frankfurt, Amsterdam and Toronto.
Windows VPS servers are also fully managed with KVM virtualization, with servers located only in India. Prices for Windows start at $ 13.50. Well, overall it can be said that MilesWeb's VPS hosting is cheap enough to cover so many features.
The Best VPS Hosting Provider Reviews
Here are the top customer reviews, found by WPOneapp.
---
"Contabo Amazing VPS"
I have buy VPS from Contabo i recived login information after 3h after your incredible payments support and all working great I can not believe it is true to have perfect VPS with this cheap price Thanks for all Contabo. Rating Contabo 5/5
Albina Zvrko
---
"Positive experience for a small business owner"
I am a new small business owner and chose DreamHost based on the reviews I read on many blogs and review sites. I am very happy to have made that decision. I'm using your shared hosting plan as it's all I need for my business now, and I'm using FTP to upload my custom webdesigns to my server. It's simple, easy to discover, and perfect for what my business needs right now. There is also plenty of room for my site to grow along with my business, which is good. My limited interaction with customer service at DreamHost was also very positive. They are friendly and very helpful. Rating DreamHost. 5/5
Paul Alfred
---
"Excellent and prompt service"
Whilst I've only had to submit tickets a few times in the past year, my issues have always been resolved very promptly … and always to my satisfaction. I don't think I could ask any more of these guys. I'm extremely happy I moved to a managed VPS plan with A2 Hosting. Rating A2Hosting. 5/5
Shane Porter
>> Get Started With A2 Hosting
---
"Hostwinds is very good, I think it's the best of all"
After I hired Hostwinds, I saw my site faster. The Hostwinds service is Note 10, the site 100% online, and if you use CloudFlare, they have the Railgun, which further speeds up your site. I've already tried 15 great hosting providers. You can think of the 15 largest in Brazil and the United States and none have the quality of Hostwinds. They solve everything for the client, I speak everything you need in your VPS. Congratulations Hostwinds! Rating Hostwinds. 5/5
Edivaldo Bsilva
---
"Support is Great"
I am using mochahost from past 7 months and i must say that their support is just awesome. Whenever I face any issue, I always try to reach them through their live chat support and these guys are awesome and very calm and always help you in your issue even when you are using VPS, because other providers not providing much support to the VPS users. Rating MochaHost. 4.6/5
Saurabh Sharma
---
"Quick Service"
The price of the plans could not be lower without being free! I've had some problems so far and your customer service has settled and done everything right for me! They are very quick to respond and good at their jobs. I wish they had a subdomain builder! That would be useful. Rating Hostinger. 4.7/5
Jacob Lloyd
---
Font : The reviews were taken from the social media and some "Opinions" websites.
Now that you know which are the best providers of private virtual servers, you can find out more about this type of hosting below.
What is Virtual Private Server (VPS) ?
First of all, perhaps you are a layman when it comes to VPS or Virtual Machine, but do not worry, we here at WPOneapp will answer your questions.
A VPS (virtual private server) consists of a very robust physical server, which is (virtually) divided into different parts. Through a technique called "virtualization", various private servers are currently being created.
In this type of hosting, functions such as: processor, RAM and disk space are assigned to each virtual server (although they share physical resources). To better explain the VPS hosting, it is as if you are working with a dedicated server, naturally with less processing power.
For Which Type of Company is a VPS Server Indicated ?
In general, a VPS hosting is indicated for those who want full control over their applications or want to expand their site or electronic commerce. Similarly, when a site starts receiving traffic and shared hosting (the one that shares all resources with other accounts). This type of server can also be useful for anyone who wants to send a large amount of e-mail (e-mail marketing services) or wants to host things with PostgreSQL, JSP and ect.
The advantages of a virtual private server (F.A.Q)
How secure is a VPS server ?
Your data and functions are dedicated to you in this type of hosting, with the result that there will be a lot more privacy and security compared to shared hosting.
Because your functions are assigned only to you, it ensures that your site is not affected by the lack of memory or disk space, by using another user on the same server.
Is VPS Cheap ?
If we compare a VPS with dedicated hosting, we will see that the former has almost the same characteristics as the second, for a much lower price.
Choose the Best Cheapest VPS Hosting Service
Finally it is time to opt for a cheap VPS hosting. If you have any questions, we can give you our latest tips. I know that choosing the best or cheapest hosting provider is not always an easy task.
Of course, if you plan to host a virtual server in the cloud ; TurnKey Internet, A2 Hosting, Interserver, DreamHost and MilesWeb (these are also managed) are your best options.
If you now want Windows VPS, Contabo, A2 Hosting, Hostwinds, Interserver, AccuWeb Hosting and MochaHost are certainly your best and cheapest solution and are also fully managed.
If VPS hosting on Linux is your choice, we have almost all providers on this list. For those who have the best hosting solutions, A2, TurnKey Internet, AccuWeb Hosting, Hostwinds, Milesweb, Hostinger, Contabo and DreamHost (these are also managed) are certainly the best.
Best Virtual Server Hosting Providers by Region
North America (Unites States, Canada, Mexico..) : everyone on this list
South America (Brazil, Argentina..) : A2 Hosting, Hostinger, MochaHost
Middle East and Africa (Iran, Saudi Arabia, United Arab Emirates..) : Kamatera, Hostinger, A2 Hosting, AccuWeb Hosting, Milesweb
Europe (Germany, UK, Netherlands…) : A2 Hosting, Hostwinds, AccuWeb Hosting, MilesWeb,

Contabo, MochaHost, Hostinger
Asia (Singapore, Hong Kong, Tokyo..) : A2 Hosting, AccuWeb Hosting, MilesWeb, Hostinger, MochaHost, Kamatera
5 VPS Providers Chosen by WPOneapp (Comparison)
The reliability level is based on the opinions of the customers of these hosting providers, found by WPOneapp.
So this was the guide of the best cheapest VPS hosting providers. If you liked this post, do not forget to share on your social networks, choose the one that best suits you and any questions below.
See you !!
Icons made by Freepik from www.flaticon.com
---
Did you like this guide ? Then leave your review.
Another subjects