Well, you're using shared hosting, until your site starts growing and receives a lot of traffic. This is the time when things start to go wrong, the website hangs, stays off the air and you think: what to do ? The Answer: Cheap VPS Hosting !
Yes, shared hosting can be good when you just start a website or create a small website. But if you really want to build a bigger project, you need a Virtual Private Server. But what is the best hosting provider for virtual servers today ? Which are the cheapest? Which has the best features and support ? So here in this message you can see which are the best and cheapest VPS providers.
If you still have questions about what Virtual Private Server is, you can find useful information at the end of this message.
11 Best Cheap VPS Hosting Services (Windows and Linux)
Below is a list of the best cheap VPS providers to buy in 2018, chosen by WPOneapp. And also read our brief review of each and the comments from customers.
A2Hosting (Best VPS Server "Windows & Linux")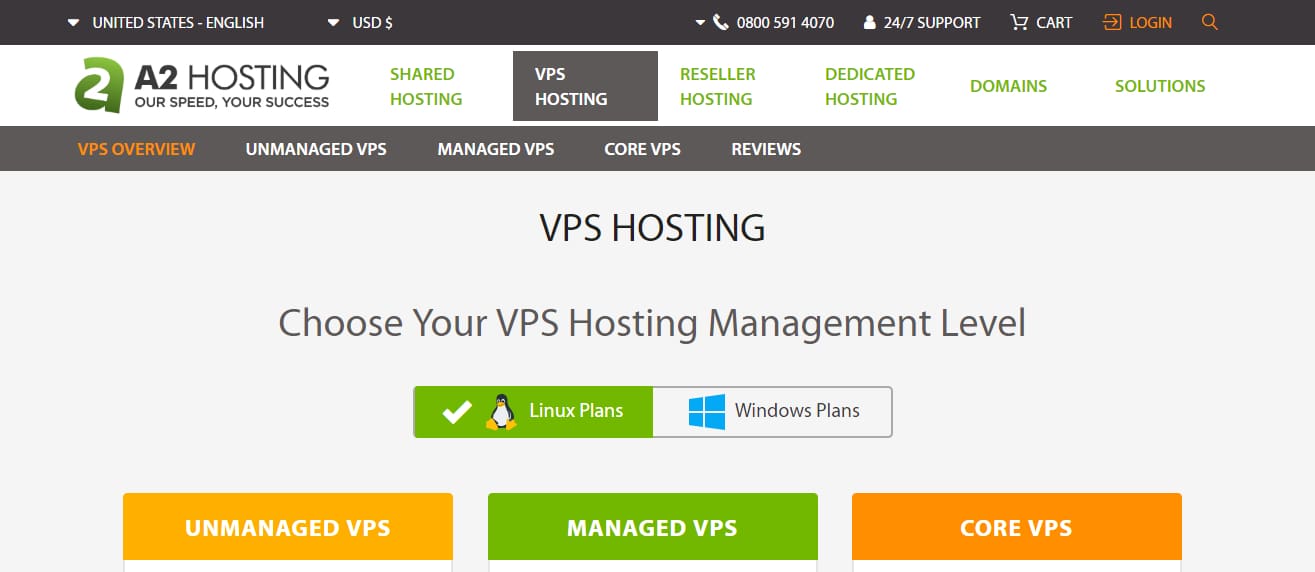 This is the hosting we use here in WPOneapp and we want to show this to you. They offer up to 99.9% uptime, servers up to 20 times faster and as a customer I can tell you that this is one of the best accommodations I have ever encountered. This may not be the cheapest hosting provider, but the quality of the service, the stability of their servers and support are worth more than anything.
But what I really like about A2Hosting is undoubtedly the speed of its servers. It's something that really makes me happy on a hosting site, besides, it's very rare that my site is down, and if so, it's for a few minutes. This makes it clear that your uptime is excellent.
This provider offers both managed and unmanaged VPS servers. You can also choose the Windows and Linux operating system. Their prices start at $ 5 (linux) for unmanaged VPS. For managed VPS hosting plans starts at $ 32.99 (Linux), $ 36.29 (Windows VPS). A2 Hosting also offers VPS in the cloud (fully customizable).
Key Features of A2Hosting :
Uptime: 99.9%
Control Panel: Cpanel or Plesk
Support: 24/7
Free SSL and SSD
Warranty at any time
Up to 20 times faster
Data centers in Asia, Europe and America
Linux VPS Price: starts at $ 5 (month) (unmanaged VPS) 512 MB RAM Disk space: 20 GB, 2TB of traffic.
Windows VPS Price: starts at $ 36.29 (month), (fully managed) 4 GB RAM, storage: 75 GB, 2TB of traffic.   

Visit A2Hosting
Hostwinds (Cheap Managed VPS Servers)
This is undoubtedly one of the best VPS hosting providers in the world. Founded in 2010, Hostwinds has as a principle, to take the satisfaction of its customers in 100%. So much so that one of his best qualities is the excellent customer service. They offer web hosting services, cloud hosting, dedicated servers and VPS.
For those who offer fully managed VPS hosting, Hostwinds is certainly one of the cheapest VPS providers on the market. Based on Linux / Windows and with 99.99999% uptime guarantee, it sure will be the choice of many. Remember that they still give you a 100% satisfaction guarantee. Well this really indicates that your hosting services are great.
Prices for managed VPS servers start at USD 5.17. If your choice is for unmanaged hosting plans start at USD 4.49. Based on what your customers say, Hostwinds is certainly able to fulfill its satisfaction guarantee.
Key Features of Hostwinds :
SSD VPS

100% Satisfaction Guarantee

99.99999% Uptime

DDOS Protection

Free Website Transfer

Cheap VPS/ Fully Managed

Support 24/7

Night Backups

Data Centers located in the United States
Prices: start at USD 4.49 per month (unmanaged Linux) and USD 5.17 per month (fully managed Linux); Windows VPS hosting starts at USD 8.99 per month (unmanaged) and USD 7.52 per month (fully managed); There is a discount for the last plan. 1-core processor, 1GB of RAM and 30GB of storage.   

Visit Hostwinds
Hostinger

(Affordable Linux VPS Server)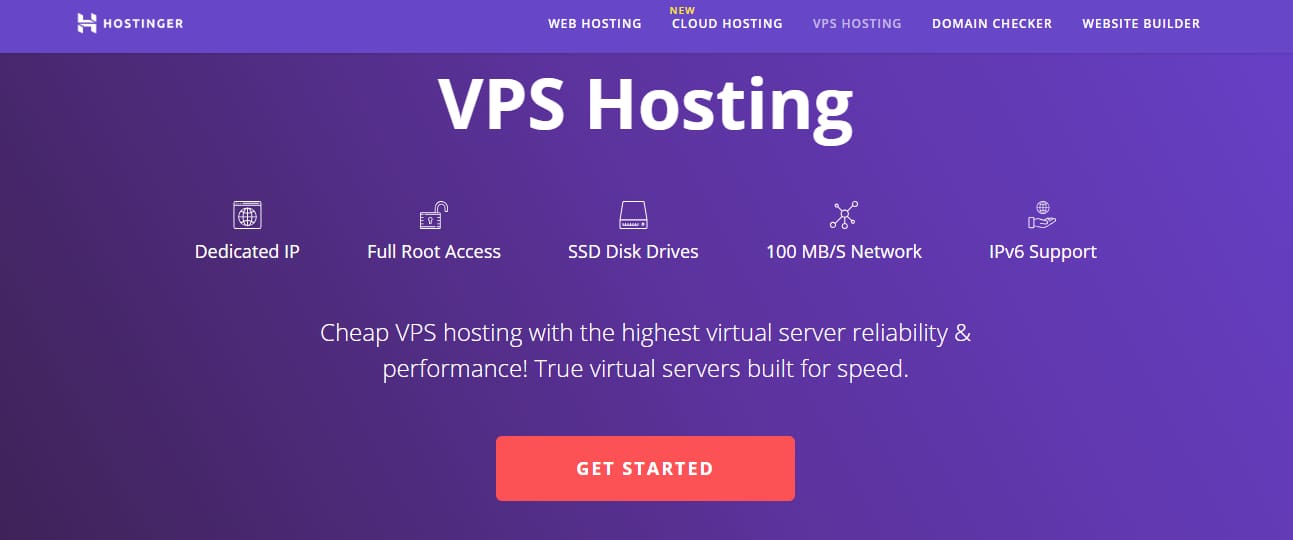 Hostinger is perhaps the best known hosting provider on this list. Founded in 2004, this is another service with years of market. According to official information, millions of users use this provider. One of the great successes of Hostinger in the past and the present was to offer a free hosting plan forever (obviously very limited). This was certainly one of the main reasons to be known around the world. In the same way as they have grown, the quality of the service provided has also increased, because according to the assessment of many customers, this is one of the best hosting services on the website and at an excellent price.
Like other providers that are known in the market, they offer a wide range of services. Shared hosting, WordPress, Cloud hosting and Cheap VPS hosting are some examples of Hostinger's services. Perhaps the only type of hosting that is lacking here is dedicated hosting.
The Hostinger virtual servers are one of the cheapest servers. These are based on the cloud and are only offered on Linux (there is a Windows subscription, but this is only available for Brazil). Their prices start at $ 4.99 (month) with 1 GB of RAM, 20 GB of storage space and 1,000 GB of bandwidth. That is why this provider is not only known, but also offers excellent service. If you are looking for a good and affordable VPS server, Hostinger should be able to provide a great service.
Key Features of Hostinger :
99.9% Uptime
30-day warranty. Instant refund
24/7 Support
SSD disk space
Cheap Cloud VPS Hosting
Data centers in North America, Europe and Asia
Full access to the root
Dedicated IP with IPV4 and IPV6
Price: Price at US $4.99 (month), 1 GB RAM, 20 GB storage and 1 TB bandwidth.   

Visit Hostinger
Contabo

(Best VPS Hosting in Europe)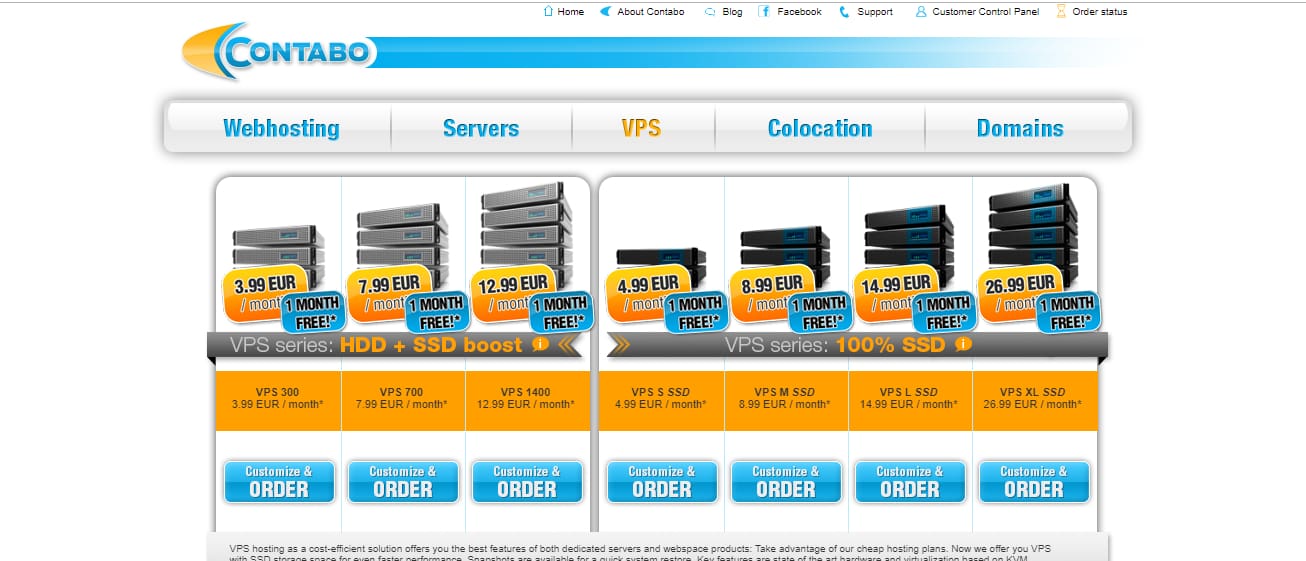 Contabo, as well as other services on this list, has been on the market for 15 years. Founded in Germany, it started with the name of "Giga-International", offering only website hosting. Over time, it has grown and acquired several awards in its history. With a strong customer base in Europe, today one can say that this is one of the best web hosting services.
Apart from the common hosting, Contabo also offers dedicated servers / VPS and domain registration. Here's something to say, since their VPS hosting is one of the cheapest on the international market. Their prices start at 3.99 EUR for Linux and 9.98 EUR for Windows. The administration panel can be Cpanel / WHM, Plesk, Webmin or LAMP.
Contabo's data centers are located in Munich and Nuremberg (Germany). Today they have clients in various parts of the world and according to the opinion of some of them this is one of the best VPS hosting providers. If you sign the annual plan, they will give you 1 month free.
Key Features of Contabo :
SSD Servers
Windows or Linux VPS
DNS Management
DDoS Protection
Full Access to Root
Cheap Virtual Servers
Support 24/7
Price: starts at 3.99 EUR per month (Linux) and 9.98 EUR per month (Windows); Configuration: 2-core processor, 4GB RAM, 300GB of disk space and unlimited traffic.    Visit Contabo
1&1

(Cheap VPS with Unlimited Traffic)
Headquartered in the United States, 1&1 began operating in 2003. It is certainly a provider with many years of experience in the market. This may be the company with the most services on this list. Let's look at the following: website hosting, VPS and dedicated servers, website builder, domain registration and more.
For those looking to buy cheap VPS, surely 1 & 1 may be the right choice. With plans starting at USD 4.99, operating systems can be Windows or Linux. You can choose the server location between United States, Spain and Germany.
This may not be that hosting provider that offers the best quality in services, but within what can be said "advisable", they offer a good service overall. Your VPS hosting is one of the cheapest I have found in my in-depth online search, with acceptable reviews from your customers.
Key Features of 1&1 :
Full Access to Root
Unlimited Traffic
VMware Virtualization
SSL Certificate Free
Windows or Linux server
Support 24/7
Uptime of 99.9%
Data Centers in the United States, Germany and Spain
Prices: starts at USD 4.99 (month) on Linux and USD 14.99 (month) on Windows; 1-core processor, unlimited traffic, 50GB SSD storage and 1GB RAM.    Visit 1&1 Hosting
Host1Plus

(Best VPS Specialized Provider)
Host1Plus was founded in 2008 and specializes in hosting cloud management. So much is that your most important hosting plans are: cloud hosting, dedicated hosting and VPS servers. As a high-performance hosting provider, you will certainly find reasonably priced virtual servers at Host1Plus.
Perhaps this is one of the most indicated VPS providers in this list. This is due to the simple fact that Host1Plus is a specialist in this hosting model. Certainly, their servers are among the best in the industry and of course because of their strong commitment to dedicated and cloud hosting.
Now, if you are looking for a cloud computing, Host1Plus will certainly have that. They have developed specific solutions for this. Your cloud VPS hosting, for what they call Enterprise Cloud. Host1Plus data centers are located in North America, South America, Africa and Europe. Here you can buy VPS servers from $ 15.00 on Linux and $ 65.00 on Windows.
Key Features of Host1Plus :
Full access to root
KVM virtualization
DNS management
Operating system: CentOS, Debian, Fedora, Suse, Ubuntu
Control panel: Cpanel
Data centers in North / South America, Europe and Africa
Linux VPS price: start at $ 15.00 (month) 2 GB of RAM disk space: 40 GB
Windows VPS price: start at $ 65.00 (month) 4 GB of RAM disk space: 50 GB.   

Visit Host1Plus
MilesWeb

(Best Cheap VPS India)
This is undoubtedly one of the best server hosting providers in India. MilesWeb has been offering hosting services since 2012. Its goal, they say, is to offer a fast, simple, reliable and accessible service to everyone. Certainly customer support is perhaps one of its great merits. Its services are VPS, dedicated servers, common hosting, cloud hosting and reseller.
When it comes to MilesWeb VPS hosting, there are two types. The first are their Linux VPS servers, fully managed by them and provided by DigitalOcean. With prices starting at $ 12.00, the servers are located in New York, San Francisco, London, Bangalore, Singapore, Frankfurt, Amsterdam and Toronto.
Windows VPS servers are also fully managed with KVM virtualization, with servers located only in India. Prices for Windows start at $ 25.00. Well, overall it can be said that MilesWeb's VPS hosting is cheap enough to cover so many features.
MilesWeb Key Features :
KVM Virtualization
Managed VPS
Full Access to Root
Cloud Infrastructure
SSD Storage
Servers in India, the United States, Canada and Europe in general.
Free VPS Migration
Cpanel or Plesk
Prices start at $ 12.00 per month (Linux); 1-core processor, 1GB of RAM, 25GB of storage and 1TB of traffic.
For Windows VPS prices start at $ 25.00 per month; Processor 1 core, 1GB of RAM, 30GB of storage and 250GB of traffic.    Visit MilesWeb
DreamHost (Cheap Linux VPS Hosting)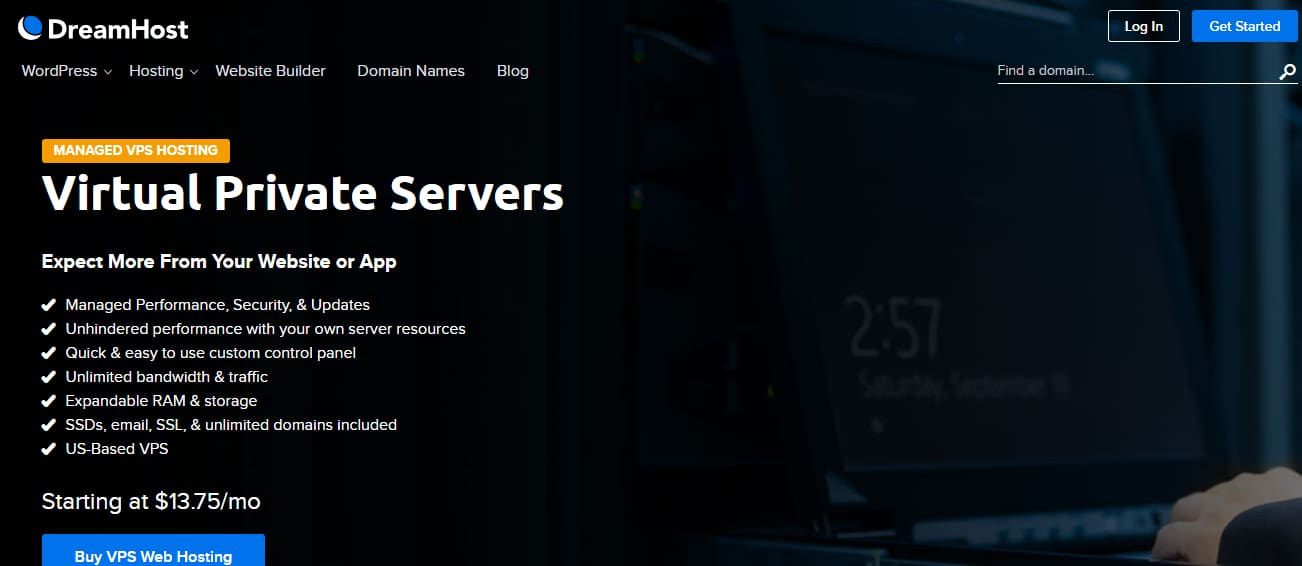 With more than 400,000 customers at DreamHost, this is another hosting provider with more than 20 years of life. Over the years it has gained a great reputation and today Dreamhost is officially recommended by WordPress.org. The services are shared hosting, WordPress, VPS hosting, dedicated servers and cloud computing. Yes, we know they are good, but what about your virtual private server?
The DreamHost VPS servers are fully managed and only offered on Linux. They guarantee 100% uptime, unlimited bandwidth and 24/7 support. In my detailed research on this provider, I noticed that customers praise the quality of the service and the price, since it starts at $ 13.75 (easier plan, 1 GB of RAM and 30 GB of storage).
Well, if you are looking for one of the best virtual servers to buy, Dreamhost is definitely recommended. Especially if you want to use WordPress because they have a strong cooperation with this CMS. Perhaps one of the best things about Dreamhost, whether it's the way they offer their VPS subscriptions (cheap, managed and great features). So for those who offer a fully managed service, this provider is probably one of the most affordable plans.
Key Features of DreamHost :
Real 24/7 support
Specialized in WordPress
Fully managed VPS servers
SSD Server
Cheap Linux VPS hosting
Ubuntu OS
Data centers in North America
Unlimited bandwidth
100% uptime guarantee
Cloud Computing
Price: from $ 13.75 (month) 1 GB of RAM 30 GB of disk space.   

Visit DreamHost
Interserver (Cheap Cloud VPS Hosting)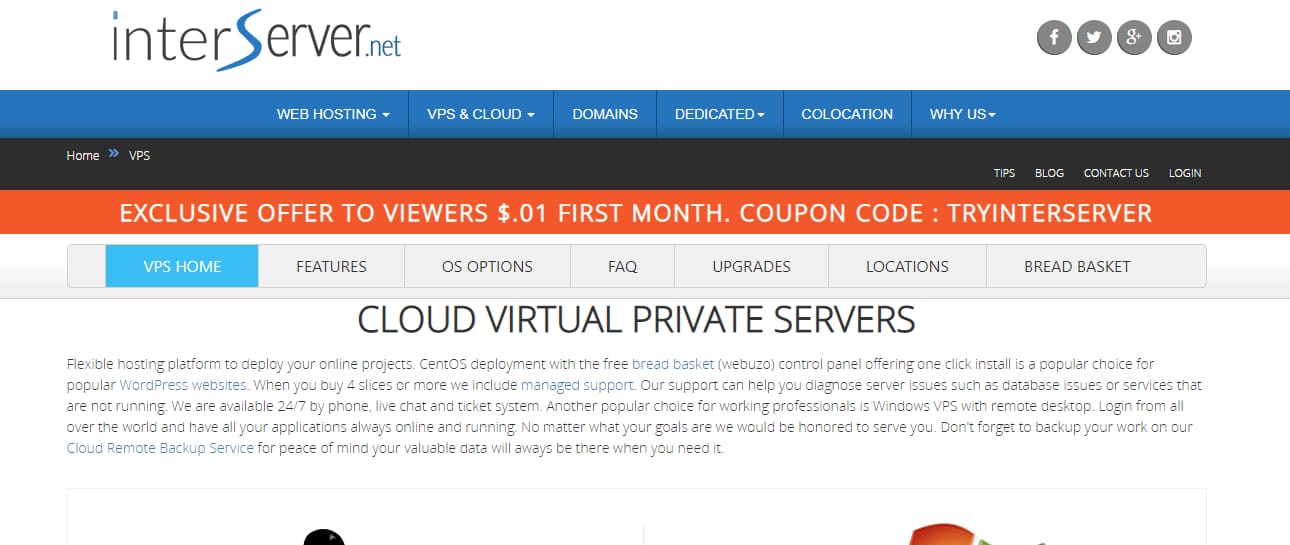 Interserver is a company that has been in the market for about 20 years. With a quality service and good support, it has won many customers over time. In the same way that time passed, this provider also grew. And today, they offer some types of services like: web hosting, VPS, dedicated servers and Cloud.
With data centers located in the United States, Interserver VPS servers are offered on Linux and Windows. Its structure is based on nuve. This is perhaps one of the virtual server providers that you can call "good and cheap." Their prices start at USD 6.00 for VPS linux, for Windows servers plans start at USD 10.00.
For the initial plans there is 1GB of RAM, 1 core processor, 25GB of storage and 1TB of traffic. If you are looking for cheap and good VPS hosting, maybe giving the Interserver a try might be a great idea.
Key Features of Interserver :
Windows & Linux VPS Servers
Instantaneous Settings
Multiple Operating Systems
Activity Time Tracking
99.9% Uptime Guarantee
Support 24/7
DNS Manager
Root Directory Access
Hundreds of Applications for your VPS
SSD Virtual Server
OpenVZ or KVM
Prices: start at USD 6.00 per month (Linux Server) and USD 10.00 per month (Windows); 1GB RAM, 25GB of disk space.    Visit Interserver
LiquidWeb (Best Cloud VPS Server "Managed")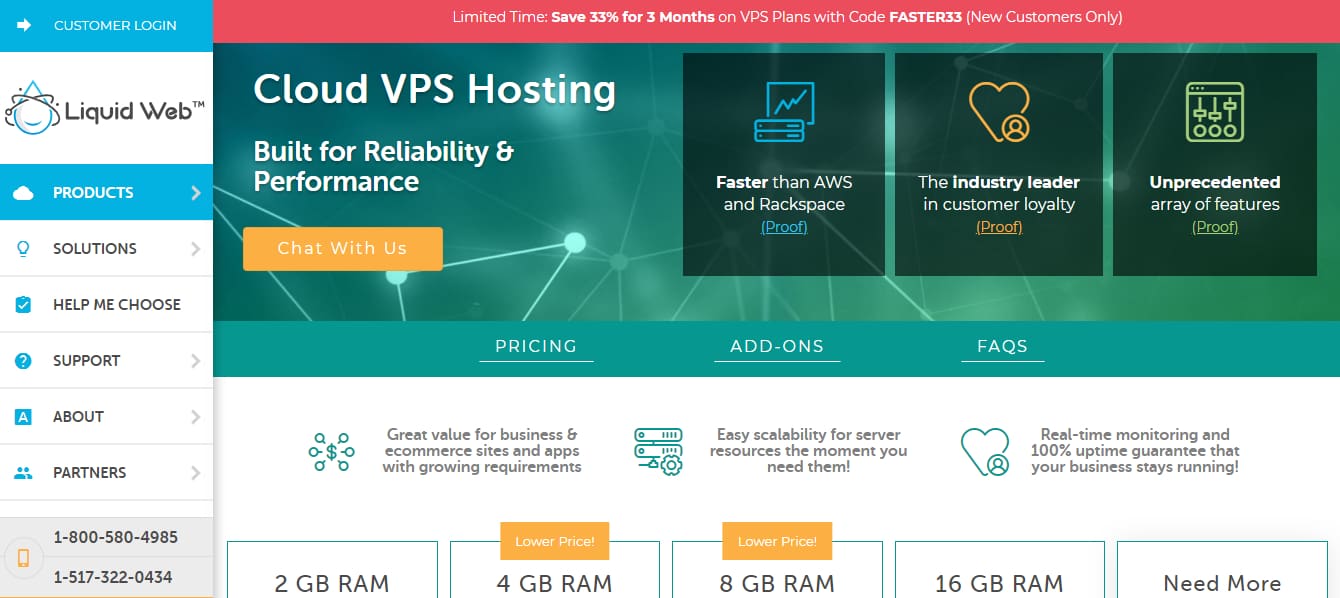 For over 20 years on the market, LiquidWeb is probably one of the most targeted hosting services in WordPress, cloud hosting and dedicated servers. If you are looking for one of these services on the internet, you will certainly find LiquidWeb in the top positions of the hosting providers. Although it does not have the same number of customers as other more well-known services, it offers a much higher-than-average service, especially on dedicated servers.
Like other specialized hosting services, LiquidWeb does an excellent job on your VPS hosting. Obtaining a server from a specialized company is undoubtedly one of the best choices when looking for a hosting provider.
LiquidWeb's private virtual servers are fully managed and based on the cloud. So if you are looking for cloud VPS hosting, this provider will do an excellent job. They offer their servers in Windows / Linux, 100% uptime and 200% faster than Rackspace, Amazon and Digital Ocean (depending on what they speak). Fully managed VPS server prices start at $ 59.00 (month).
Key Features of LiquidWeb :
Panel: Cpanel or Plesk
100% uptime
Linux or Windows
Cloud VPS Hosting
Support 24/7
Managed virtual servers
Advanced security
Up to 200% faster
Price: from $ 59.00 (month) 2 GB RAM; 40 GB SSD storage.   

Visit LiquidWeb
GreenGeeks (Powerful VPS With Cpanel/WHM & SSD)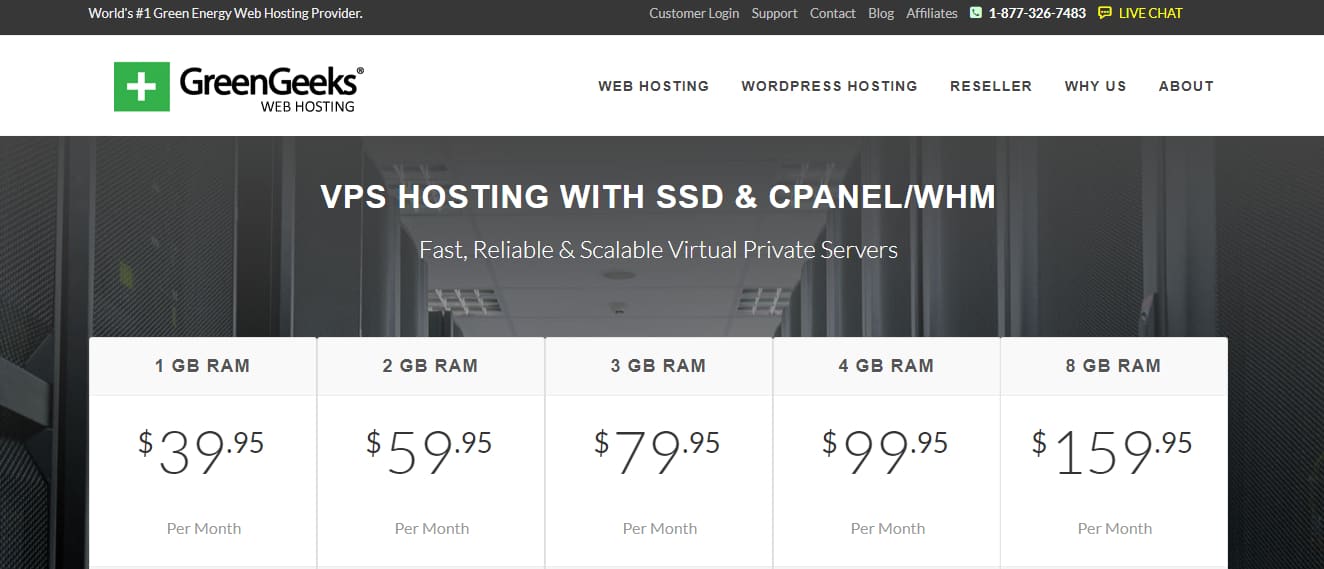 GreenGeeks is, as the name suggests, "green" hosting. But what does this actually mean? This means that they use 3 times as much power with wind power credits as your virtual (and other) private server uses. So if you are interested in helping the planet, the use of this hosting provider will certainly help you.
With more than 35,000 customers, GreenGeeks has its headquarters in the United States, but it is present all over the world. The VPS servers are based on Linux and are managed via their own dashboard (and cpanel). You also have the Cpanel / WHM license to manage hosting accounts, which is useful if you are looking for multiple hosting accounts or wants a VPS hosting for resale.
Prices for the Linux VPS server start at $ 39.95, with 1 GB of RAM, 1000 GB of bandwidth and 4-core processor. Well, if you want to buy virtual servers from a provider that uses green energy in your data center, that is absolutely the best.
Key Features of GreenGeeks :
SSD VPS
Panel: Cpanel / WHM
99.99% uptime
24/7 support
Hosting provider "green"
Data Center in North America
Enom Domain Reseller Account Free
Improved security
Price: from $ 39.95 (month), Linux 1 GB RAM, 25 GB disk space SSD.   

Visit GreenGeeks
Now that you know which are the best providers of private virtual servers, you can find out more about this type of hosting below.
What is Virtual Private Server (VPS) ?
First of all, perhaps you are a layman when it comes to VPS or Virtual Machine, but do not worry, we here at WPOneapp will answer your questions.
A VPS (virtual private server) consists of a very robust physical server, which is (virtually) divided into different parts. Through a technique called "virtualization", various private servers are currently being created.
In this type of hosting, functions such as: processor, RAM and disk space are assigned to each virtual server (although they share physical resources). To better explain the VPS hosting, it is as if you are working with a dedicated server, naturally with less processing power.
For which type of company is a VPS server indicated ?
In general, a VPS hosting is indicated for those who want full control over their applications or want to expand their site or electronic commerce. Similarly, when a site starts receiving traffic and shared hosting (the one that shares all resources with other accounts). This type of server can also be useful for anyone who wants to send a large amount of e-mail (e-mail marketing services) or wants to host things with PostgreSQL, JSP and ect.
The advantages of a virtual private server:
• Security: your data and functions are dedicated to you in this type of hosting, with the result that there will be a lot more privacy and security compared to shared hosting.
• Features specific to your account: Because your functions are assigned only to you, it ensures that your site is not affected by the lack of memory or disk space, by using another user on the same server.
• Cheap: if we compare a VPS with dedicated hosting, we will see that the former has almost the same characteristics as the second, for a much lower price.
Choose the Best Cheapest VPS Hosting
Finally it is time to opt for a cheap VPS hosting. If you have any questions, we can give you our latest tips. I know that choosing the best or cheapest hosting provider is not always an easy task.
Of course, if you plan to host a virtual server in the cloud, A2Hosting, LiquidWeb, Interserver, DreamHost and Host1Plus (these are also managed) are your best options.
If you now want to host Windows, A2, Hostwinds, Host1Plus, Milesweb and LiquidWeb are certainly your best and cheapest solution and are also fully managed.
If VPS hosting on Linux is your choice, we have almost all providers on this list. For those who have the best hosting solutions, A2, Host1Plus, Hostwinds, 1&1, Interserver, Milesweb, LiquidWeb, Hostinger, Contabo and DreamHost (these are also managed) are certainly the best. And one last thing, if an eco-friendly accommodation is the one you want, it's pretty clear that GreenGeeks is a great provider.
Best Virtual Server Providers by Region
• North America (USA, Canada) : everyone on this list
• South America (Brazil, Argentina) : Host1plus, A2, Hostinger
• Europe (Germany, UK, Netherlands) : A2, Host1plus, Liquidweb, Contabo, 1&1, Hostinger
• Middle East and Africa (Iran, Saudi Arabia, United Arab Emirates) : Host1Plus and practically the same as recommended for Europe
• Asia (Singapore, Hong Kong, Tokyo) : A2, MilesWeb, Hostinger
So this was the guide of the best cheapest VPS hosting providers. If you liked this post, do not forget to share on your social networks, choose the one that best suits you and any questions below.
See you !!
Related Posts :