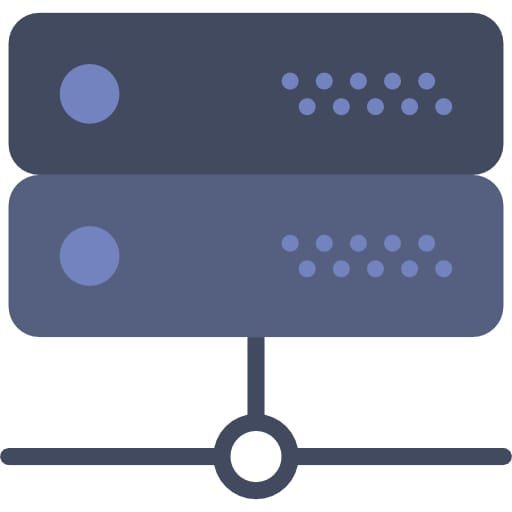 If a cheap dedicated server for hosting applications, games and web services is your online search, here are the best dedicated server providers in the area. A good dedicated server provider offers add-ons, such as security packages, SSL certificates, and remote backup service.
They also maintain the network consistently throughout the day. The main benefits of using a dedicated server are control, privacy and guaranteed features. These same servers are not shared by other users.
In addition, players should check out the best dedicated servers for gaming hosting, website, business and others. Here is a list of suppliers of the best dedicated servers of 2019.
What can you and will find here on this page ?
Best dedicated servers in the world
Trusted Hosting Providers
Affordable dedicated servers
Dedicated hosting for Minecraft, website hosting, gaming, iptv, streaming and more..
Servers for United States, India, Australia, United Kingdom, Canada, Germany and more..
Windows & Linux server
Support / uptime evaluated and verified
Best Cheap Dedicated Server Providers "Windows/Linux"
Remembering that all of these providers listed below have been chosen, based on the opinions of actual customers and the WPOneapp team.
Windows (W) | Linux (L)
#provider
Hardware
Price
Link

Contabo

4CPU, 8GB RAM, 800GB Storage, W & L
From 39.99 EUR

Kamatera

1CPU, 1GB RAM, 20GB SSD Storage, W & L
From $ 19.00
30 day free trial

MochaHost

1CPU, 2GB RAM, 50GB SSD Storage, W & L
From $ 19.00

TMDHosting

4CPU, 8GB RAM, 1TB Storage, L ; Fully Managed
From $79.97

InterServer

2CPU, 1GB RAM, 250GB Storage, W & L
From $ 50.00

FastComet

4CPU, 8GB RAM, 160GB SSD Storage, L ; Fully Managed
From $ 139.00

BlueHost

4Cores, 4GB RAM, 500 GB Storage, L; Managed
From $ 79.00

Jolt.co.uk

8Cores, 8GB RAM, 500GB Storage, W & L
From £ 20.00

eUKHost

4Cores, 8GB RAM, 2TB Storage, W & L
From £ 69.99

MilesWeb

4Cores, 8GB RAM, 1TB Storage, W & L; Fully Managed
From $ 145.00

A2 Hosting

2Cores, 8GB RAM, 1TB Storage, L; Managed & Unmanaged
From $ 99.59

NameCheap

4Cores, 8GB RAM, 500GB Storage, L
From $ 39.44

AccuWeb Hosting

4Cores, 16GB of RAM, 2TB Storage, Bandwidth Unlimited, W & L
From $ 75
What is a Dedicated Server Hosting ?
A dedicated server is a single computer on a network reserved to meet the needs of the network. For example, some networks require that one computer be reserved to manage communications between all other computers.
A dedicated server can also be a computer that manages printer features. Note, however, that not all servers are dedicated. On some networks, it is possible for a computer to act as a server and perform other functions as well.
Unlike shared hosting, here you will have all the features of the server exclusively for you.
In a web hosting, a dedicated server is typically a rented service. You rent the server, the software, and an Internet connection from the web host. See more here.
Who should use a dedicated server ?
Below are some types of businesses that need a dedicated server :
Web developers and agencies
E-commerce companies
Large international companies
Popular publishers and blog sites
Any other company that needs high performance and security
What is the cheapest dedicated server ?
Well, you're on a tight budget and want to find a good affordable server at the same time. Here on this page we made sure to bring the best and most reliable hosting providers in the world. First of all is whether you want a managed or unmanaged hosting. If you choose the latter option, you will have to manage your own server, which requires a bit of technical knowledge. Already the fully managed servers (which are usually more expensive), the entire upgrade process, software and ect, are the responsibility of the hosting provider.
Below is a short list of the cheapest providers for unmanaged and fully managed servers.
A short review of some dedicated hosting providers :

Contabo sells one of the best dedicated servers in the world, including the "Dedicated Server Core i7". Prices for dedicated servers start in €39,99. Here are the details:
CPU – Intel Core i7 (4 x 2.66 GHz)
12 GB RAM
Two 1,000GB hard drives
Unlimited Traffic
100Mbps port
DDoS Protection
Live support 365 days a year
Linux or Windows operating systems
€39.99 / month; Windows Server
US $ 91, one-time installation fee
Server Location : Germany(Europe)
Contabo was awarded 1st place in the Hotline CHIP test (a challenge organized by the German magazine – CHIP). No doubt this is one of the best providers in Europe. Contabo had a wait time of 12 seconds, which was the fastest response time between hosting providers. Customer service is very important to me. I would select this company as a good provider of dedicated Windows or cheap Linux servers.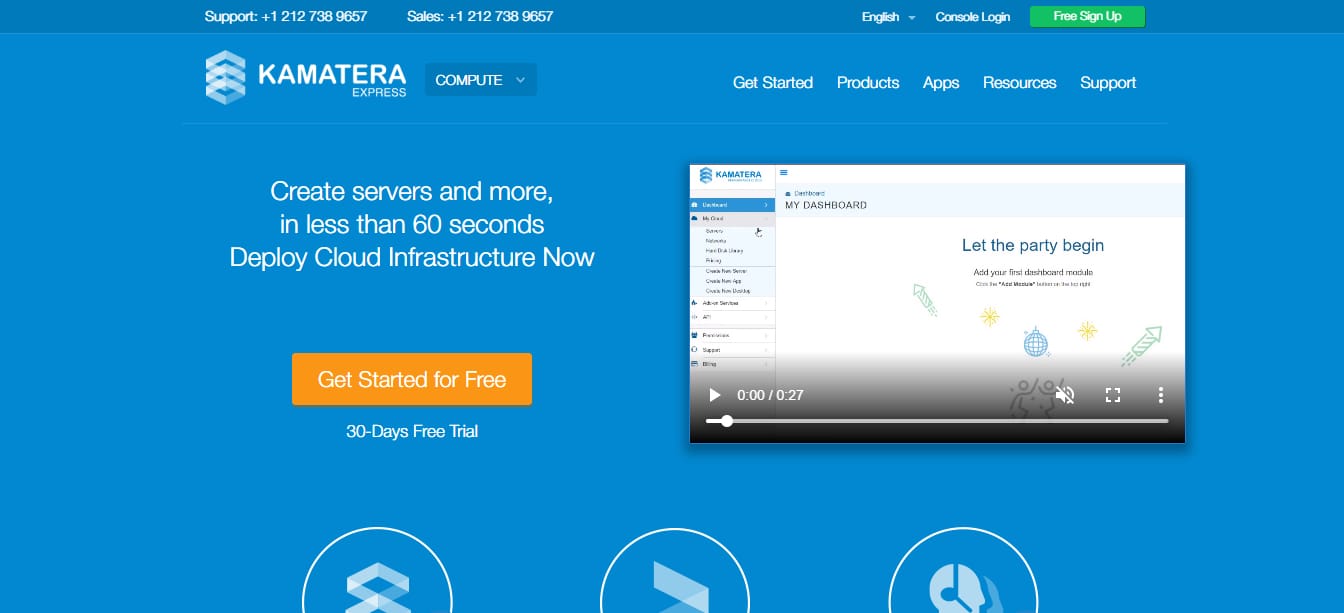 With strong knowledge in Cloud servers, the Kamatera stands out when the subject is great infrastructure. The company that already has a long history in the VPS market, now also allows dedicated servers. For those looking for a totally scalable service, this is certainly one of the best options.
When you enter your site, you will be able to choose between 4 types of servers: "Availability, General Purpose, Burstable and Dedicated." In the case of "General Purpose", for example, you will have several CPUs that are linked in a dedicated nucleus. Dedicated, the server CPU is assigned to 1 dedicated physical CPU, with guaranteed resources reserved.
Kamatera offers some of the cheapest cloud servers on the market. Starting at $ 4.00 for Common VPS (Availability) and $ 19.00 for dedicated servers. You can also choose between Windows and Linux operating systems as well as leading-edge infrastructure and data centers on 4 continents. Note: There is a free 30 day trial.
Windows or Linux Server
Free Trial
99.95% up-time guaranteed
Data Center Locations : United States, Netherlands, Germany, United Kingdom, Israel, Hong Kong

MochaHost has more than 16 years of experience in the web hosting industry. They offer dedicated ultrafast dedicated servers with 100% full time warranty. This includes the following dedicated servers:
3-D dedicated server (2GB – 6GB RAM, 1 Core CPU, 2.4GHz CPU Power, 50GB SSD space, etc.) – $ 19/month
Ankola-3 dedicated server (4GB – 10GB of RAM, 2 CPU cores, 4.8GHz CPU, 100GB of SSD disk space, etc.) – $ 30/month
Barista-3 dedicated server (6GB – 12GB RAM, 4 CPU cores, 9.6GHz CPU Power, 200GB of SSD disk space, etc.) – $ 47/month
These are the cheapest dedicated servers for hosting. Here you will find hosting of dedicated Windows or Linux servers . The Windows version contains more RAM. It is to be appreciated a dedicated server provider that maintains the services every day without interruption. In addition, MochaHost does not charge extra for access. See more resources for the provider:
Free Unlimited SSL Certificates
Managed Services
Enterprise-level SSD storage
Free migration assistance
VPN support
Monthly traffic limit of 4,000GB
1000 Mbps Network Port
Windows or Linux
Server Location : United States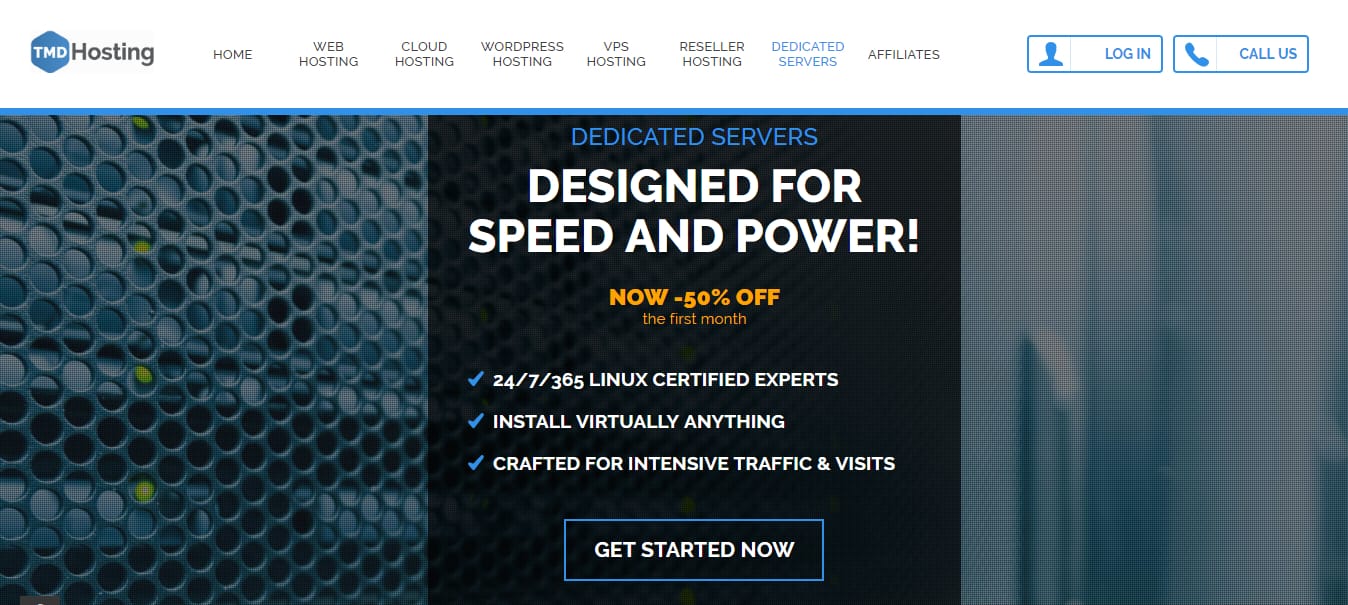 With more than 10 years in the web hosting market, TMDHosting has consolidated with one of the big names in the industry. This provider has gained a great reputation among the owners of websites and companies. They offer a range of products like Website Hosting, VPS, Cloud, Reseller Hosting and Fully Managed Dedicated Servers.
TMD has servers located in different parts of the world, but for dedicated servers they offer two locations: Chicago or Amsterdam. This is one of the most accessible managed services we've come across since its dedicated servers start at $ 159.00 (there is a 50% discount for the first month).
Yes for those looking for the cheapest servers, TMD may not be the best option. But if you are looking for a provider that offers fully managed dedicated servers, they are one of the best services. The servers are Liunx and with a 30 day warranty if you are dissatisfied with their services.
Linux Dedicated Severs
Fully Managed
Support 24/7
Free Setup
Server Locations : United States and Netherlands
InterServer offers a number of free services, plus dedicated dedicated servers, including DDoS protection, 10TB transfer, and managed support. The InterServer does not charge users for server configuration. This company also monitors the network 24/7 without extra charge. Data migration and 4 hour provisioning are included.
InterServer offers servers with different numbers of cores (2, 4, 6, 12, 16 and 24). All have the same hard disk size (250GB). The price ranges from $ 50 / month to $ 640 / month. InterServer also offers fast deployment packages. These are ready in 15 minutes after ordering. There are many things I like on this company's website.
The most attractive aspect is the easy-to-select tables that display all the best features and dedicated server prices. A customization button is posted next to the best dedicated server on the web page for easy customization.
Linux or Windows
Server Location : United States

Most likely tracking your website is one of your goals. One of the most important features of FastComet is the responsive servers. For almost ten years in the private hosting industry, this provider launched its public hosting service in 2013.
With more than 45,000 customers, they are now one of the most preferred providers because of the high quality of the services provided, as analyzed by different assessments internet and your own customers.
Perhaps this is one of the hosting services that is indicated for everyone because the servers are located in North America, Europe and Asia. FastComet dedicated servers are Linux only, fully managed and offered with Solid State Disk (SSD). The latter function ensures that your files and database perform up to 300% better.
With features such as: free CPanel and Softaculous, full root access, MySQL on SSD, Firewall and free backups, prices for FastComet dedicated servers start at $ 139.00 (month); 8 GB of RAM, 5 TB of bandwidth and 160 GB of storage space.
FastComet, which offers shared hosting, dedicated and virtual servers, is one of the major providers on the market. If you are looking for fully managed and cloud-based hosting, they will certainly provide great quality, security and support on your dedicated server.
Linux Operational System
Server Location : United States; United Kingdom, Germany, Netherlands(Europe); Tokyo, Singapore(Asia).

BlueHost offers a free upgrade on dedicated standard hosting plans. The upgrade includes a 4 x 2.5 GHz CPU and 1 TB of storage. Here is a list of plans to consider:
Standard dedicated server plan ($ 80 / month) – 2.3 GHz CPU; Storage 500 GB (mirrored); 4 GB of RAM; 5 TB bandwidth; 24/7 support; SSL free, etc.
Enhanced dedicated server plan ($ 100 / month) – 2.5 GHz CPU; 1TB storage (mirrored); 8 GB of RAM; 10 TB bandwidth; 24/7 support; Free SSL; etc.
Premium dedicated server plan ($ 120 / month) – 3.3 GHz CPU; 1TB storage (mirrored); 16 GB of RAM; 15 TB bandwidth; 24/7 support; SSL free, etc.
These cheap dedicated servers are good and extremely fast. They use OpenStack technology. The BlueHost team can quickly create a server; It only takes 24-72 hours to build. BlueHost uses RAID storage to back up data.
Linux Operational System
Server Location : United States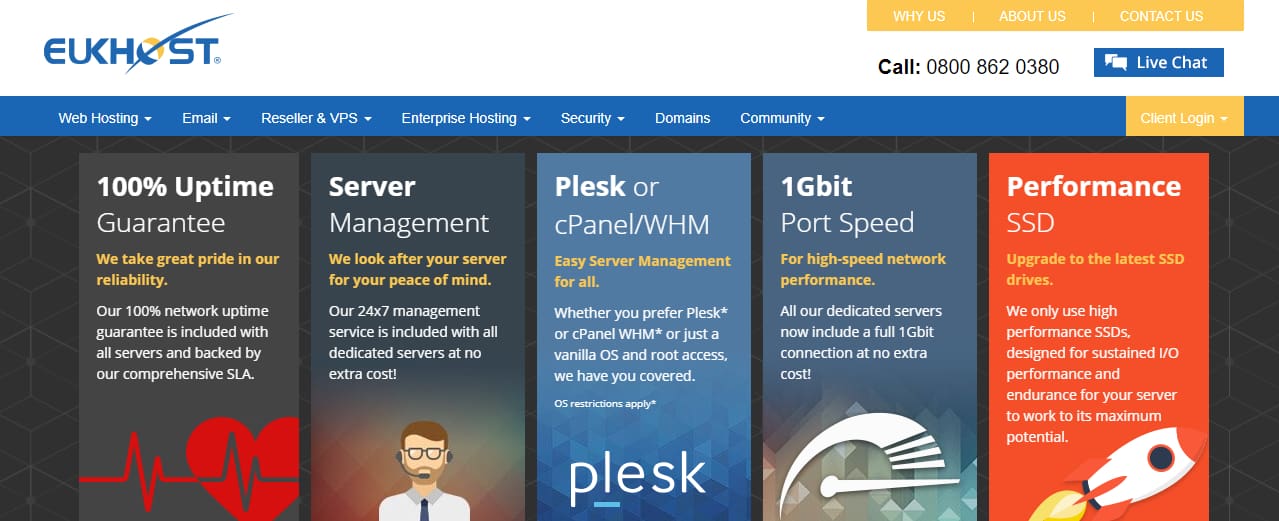 EukHost offers Plesk or cPanel / WHM interface along with 1 Gb port speed, 10TB bandwidth (monthly), 100% uptime and 24/7 server management. Another service that interests me is the free migration service. Here is a list of the best dedicated server features:
dedicated server eUK E3 Standard ($ 92 / month) – Intel Xeon 3.0GHz CPU with 4 cores / 4 threads; 8GB of DDR4 RAM; 2 x 2TB 7.2K SATA hard drive, etc.
dedicated server eUK E3 Professional ($ 118 / month) – Intel Xeon 3.5GHz with 4 cores / 8 threads; 16GB of DDR4 RAM; 2 x 1TB 7.2K SATA Hard Disk, etc.
dedicated server eUK E3 Enterprise ($ 143 / month) – Intel Xeon 3.8GHz with 4 cores / 8 threads; 32 GB of DDR4; 2 x 2TB 7.2K SATA hard drive, etc.
These affordable dedicated servers in the UK utilize RAID backup technology. In addition, there are Linux and Windows versions of each dedicated server.
Windows or Linux
Server Location : United Kingdom(Europe)
I really like the company website. They have cheap dedicated servers in India and United States. MilesWeb offers three types of dedicated server plans – Geek, Pro and Plus. The Geek plan ($ 76 / month) includes a cheap dedicated server with 4 CPU cores, 4 GB of memory, 500 GB of hard disk storage and 1 TB of bandwidth.
Pro Plan ($ 129) includes an affordable dedicated server with 6 CPU cores, 6 GB of memory, 1 TB of hard disk storage and 2TB of bandwidth. The Plus Plan ($ 161 / month) includes a server with 8 CPU cores, 16 GB of memory, 1500 GB of hard disk storage and 3 TB of bandwidth. All of these plans have dedicated IP and RAID hardware.
Linux Operational System
Server Location : United States; India(Asia)

A less expensive dedicated server provider to consider is Namecheap. Its best dedicated servers cost $ 58.88. This company offers same day setup, which is something I could request. In fact, this company can set up a dedicated dedicated server in less than four hours. In addition, they guarantee 100% network uptime. Here is a list of resources:
Intel Xeon E3 3.1 GHz processor with 4 cores
8GB of DDR3 RAM
500GB Hard Drive
10TB Bandwidth
Linux Operational System
Server Location : United States
Choose a Cheap Dedicated Server
Choosing the best provider of dedicated servers is certainly not an easy task. Based on what we found about these companies, we came to the following conclusion. Contabo, Interserver and FatComet offer one of the best services in this area. Already the cheapest server we found was Jolt.couk, with an initial price of £ 20.00.
For those looking for a more local service MilesWeb will certainly be very efficient in India and Asia in general, while for the United Kingdom to eUKHost. The server providers listed above are ready to be configured.
The best servers allow users to host an unlimited number of sites, increase privacy and give more control to the user. I think this is a valuable resource to have, and it is a shared hosting upgrade, reseller hosting and VPS hosting.
Icons made by Smashicons from www.flaticon.com is licensed by CC 3.0 BY
---
Another subjects
Leave a review for this post :