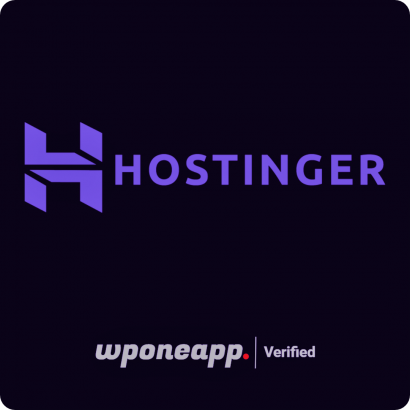 Hostinger was founded in 2004 and since then it has consolidated itself as one of the best companies in the website hosting segment, gaining good reviews on credible sites, such as Reclame Aqui.
In addition, the company is accredited by ICANN, an international institution known for managing and coordinating Internet domain policy, thereby ensuring the correct and secure use of online addresses.
One of the main objectives of Hostinger as a web hosting company is to make customer projects as easy as possible, enabling them to be able to create and manage their work online, be they blogs or virtual stores.
A clear example of this is the fact that Hostinger offers, among its services, an easy-to-install WordPress hosting, as well as other types of hosting, always combining affordable prices and above average quality.
Take advantage of the WPONEAPP discount coupon that yields an extra 10% discount on the final price . That's right, Hostinger already works with 90% and you can have another 10% in the final price. Just click here and paste the coupon into the cart.
Hostinger Hosting Services
WordPress is nowadays one of the most versatile website managers. It has several features that make it the ideal choice for those who want to manage both an institutional website and an e-commerce.
Speaking on this platform, Hostinger's WordPress Hosting is one of the best on the market. To learn more about it, it is worth knowing the plans that Hostinger offers.
Single WordPress Hosting
This is an ideal plan for small businesses that generally have institutional websites. It is also perfect for personal blogs that don't have high traffic.
Among the main advantages of this plan are the intuitive control panel, easy installation and technical support available 24 hours a day. All this to make it easier for the client to be able to manage their own project online in a simple and hassle free way with very technical details.
In addition, this plan features a free website, 10 GB of disk space and 100 GB of traffic limit.
Premium Hosting
Recommended for larger projects, among its benefits are a platform with twice the speed and unlimited traffic.
It is also worth noting that the customer has 20 GB of SSD disk space and if the customer opts for the annual plan, he gains a free domain.
Another big difference is that in this plan there are no limits on websites, databases and e-mail accounts.
Business Hosting
This plan is recommended for those who have, for example, a virtual store. The reason for this lies in some of its benefits, such as the free SSL certificate, which will be available if the customer chooses the annual plan.
Those who have an e-commerce know how essential an SSL certificate is to ensure the security of the website.
In addition, Business WordPress Hosting also offers daily backups – ideal for the client not to lose important data in the event of a failure – as well as providing WordPress 4 times faster.
VPS Servers
Well, maybe you have a bigger project and want a server that is capable of handling a lot of information at the same time.
This is where VPS servers come in. Hostinger offers Linux and Windows VPS hosting, with a good range of features and options. SSD servers, root access, IPv6 support, 24/7 support are some of its benefits.
With prices starting at R $ 14.99, the initial discounts for this type of accommodation range from 57% to 77%, making them one of the cheapest options in the national and international market.
You can see more about VPS servers here .
Hostinger Cloud hosting
In addition to WordPress Hosting and its installation facilities, Hostinger also works with Cloud Hosting, based on modern and efficient cloud technology.
This type of hosting is ideal for those who manage large sites with high traffic rates. The advantages of this type of accommodation are several and can be seen below.
More speed
It allows 3x faster site loading, a feature that is essential to offer users a good browsing experience.
Growth capacity
With a Cloud hosting, your website has more growth space. That is, it is very flexible and there is no need to upgrade your hosting.
Fully managed
It features a personalized control panel. This makes it easier for the user to manage their own project.
In addition, cloud hosting servers work virtually and in isolation, giving the user full control of all resources and limits. There is also a dedicated IP included.
Still, Hostinger offers its customers a technical support team trained to meet any type of demand, 24 hours a day.
Reselling Hostinger hosting
The reseller hosting is now an excellent alternative for those who want to make money on the web. Through resale, the entrepreneur is able to create, resell and manage hosting plans.
All of these services can be customized with your own brand, considerably increasing your profit on the internet.
Reselling hosting is an interesting option for freelancers, digital agencies and professionals working in the field of programming.
For those who want to invest in this segment, Hostinger offers four plans, from the recommended for those who are new to this enterprise, to the most advanced, for more experienced users.
All of them have essential features for the success of your project, such as free SSL certificate, unlimited traffic and unlimited email accounts.
What differentiates each of the plans is the disk space. The cheapest has a 60 GB SSD space, while the most advanced has 160 GB SSD.
Conclusion
Hostinger, with its vast experience in the web hosting segment, brings everything your online project needs to develop, such as security and speed. All of this combining affordable prices and quality services.
So, to learn more about how Hostinger can help your business, get in touch and find out about your hosting plans.
---
---