When doing an internet search for best VPN, you will find a lot of providers. Some very similar, that's a fact. But all with the same goal according to their statements: to keep you safe and private online.
But then how do you know which one is the best VPN provider ? Or what suits you best ? What is the cheapest VPN ?
Well, these are questions a little difficult to answer, as there is a need to do several tests with different providers until the best VPN service is found.
Features that a good VPN must have :
Every VPN service (virtual private network) must offer the maximum options for its users, here are some of them :
Features that ensure your privacy and security
Registration policy 0
Good jurisdiction
Connection and download speed
Torrent ability
Easy to use apps
Availability for: Windows, Linux, Android, IOS, Mac…
Few failures
Load Netflix and the like
Fair price (cheap if possible)
Support in case of doubts/problems
Best VPN 2023
As said, for a VPN provider to be among the "Top services" it must offer good features and an affordable price. Check out the best rated VPN below :
This is our compressed list of VPN providers that gave us the best results in terms of security, privacy and good jurisdiction. We are also keen to show you the cheapest VPN services on the market.
In case you're not ready to go ahead, the WPOneapp team has prepared a complete list of this year's best VPNs :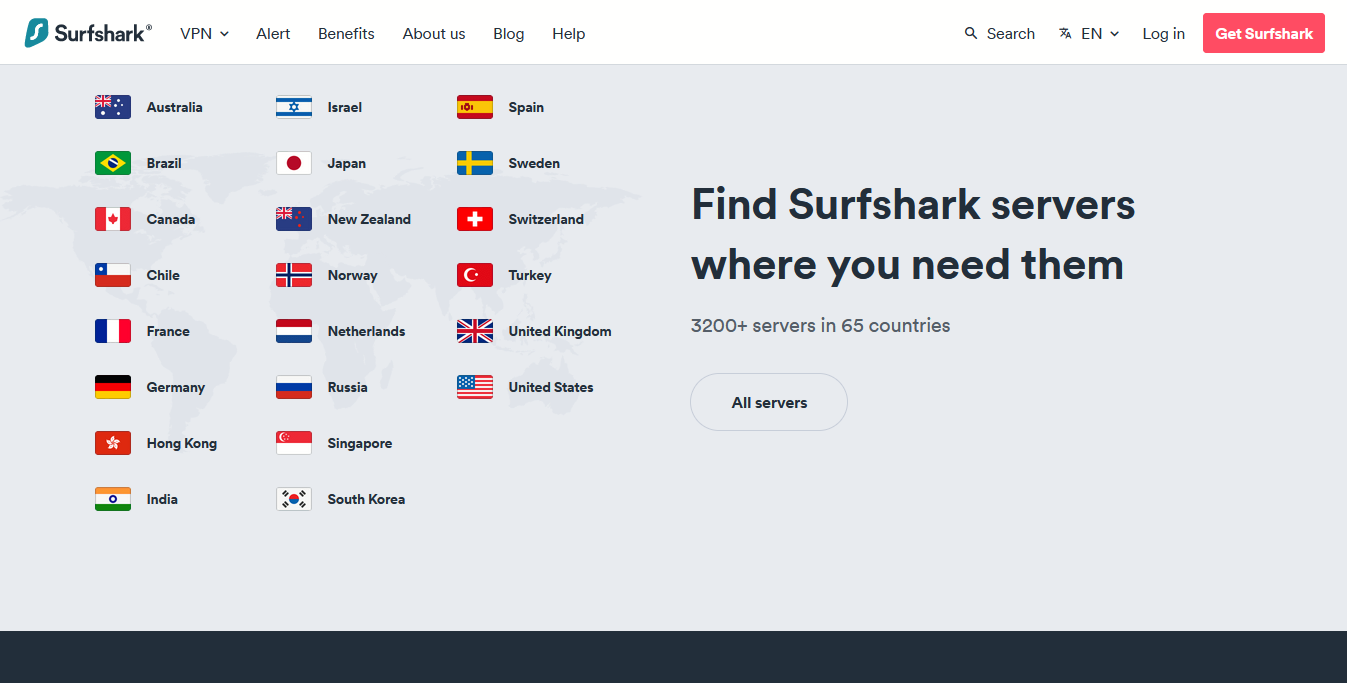 Surfshark is a company based in the British Virgin Islands, offering one of the most stable and affordable VPN services on the market. The service, launched in 2018, has relatively good results in tests for speed, security and against IP, DNS and WebRTC leaks.
Advantages of Surfshark :
There is no limitation on the number of simultaneous connections : yes Surfshark does not limit the number of users at the same time. You can install VPN on as many devices as you like. This is very good people/companies with many devices.
Support for multiple operating systems : VPN for Windows, MacOS, Linux, Andoid, IOS. Browsers – Chrome, Firefox. Consoles – Playstation, Xbox and Smart TVs.
Very good jurisdiction and privacy policy : British Virgin Islands is a great place for a VPN company to be located. The country is outside the "Five Eyes" surveillance alliance, is independent and has strong laws for protecting data online. Surfshark also warrants in accordance with its terms of use that it does not keep any records about the activity of connected users.
Good Encryption : to be the best VPN a company must offer good encrypting feature and at this end Surfshark provides OpenVPN, WireGuard, IKEv2 and Shadowsocks.
Other features : works well with Netflix and the like, easy to use, an ad blocker included (clean web), 24/7 support for chat and email, change your smartphone's GPS location, Kill Switch, works with torrents ( compatible with P2P) and more.
Servers : More than 3200 servers in 65 countries.
Disadvantages :
Does not offer dedicated router app, but it is possible to install. Slightly slower speed with OpenVPN.
Surfshark Prices
We consider surfshark as the "best cheap VPN". Your 2-year promotional plan value is $2.49/month saving 81%. 6 month plan for $6.49/month and $12.95 for one-time payment. They offer a 30-day money-back guarantee from purchase.

Payment methods: credit cards, Paypal, Google Pay, Amazon Pay, Cryptocurrencies. For Brazil: Boleto, online debit to Caixa, Banco do Brasil, Bradesco, Itaú and Santander.
---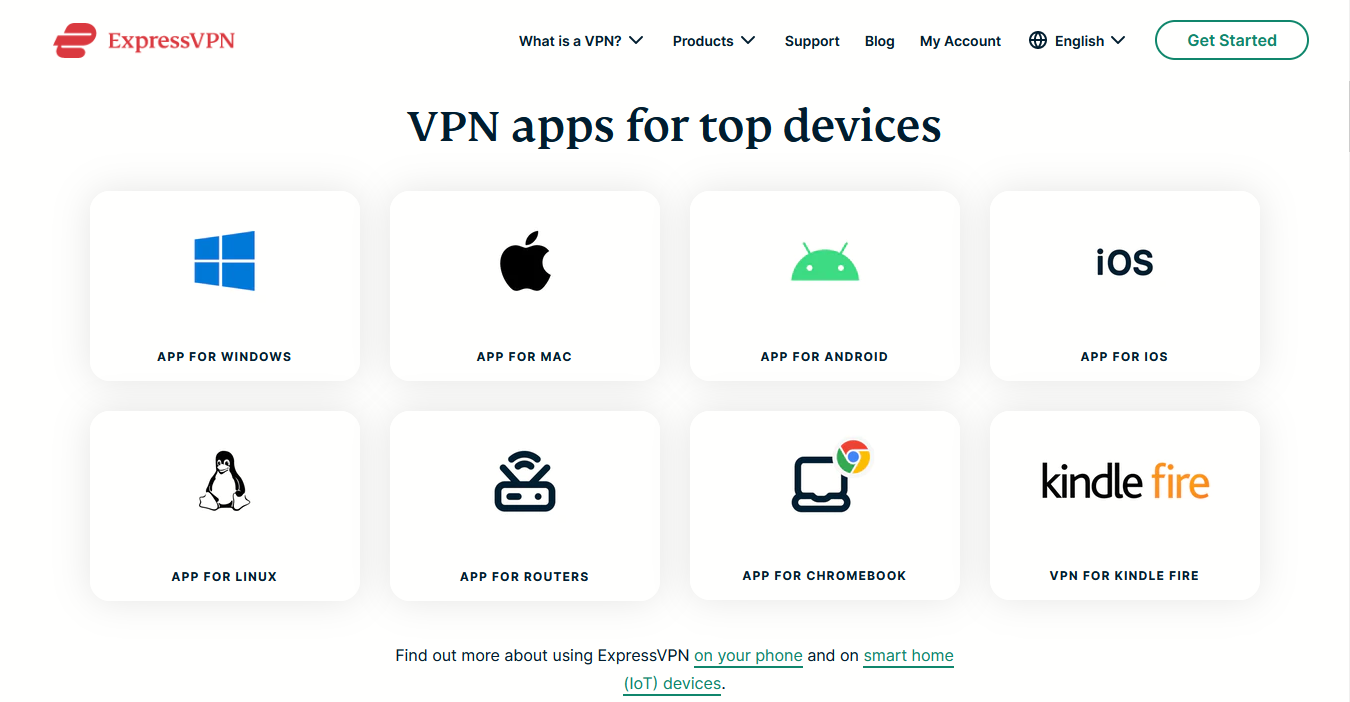 ExpressVPN is another reputable service in the online security and privacy market. The company is also based in the British Virgin Islands, considered by many to be one of the best VPNs today. In fact, the company delivers excellent service, but with a single negative point in our opinion. See the review.
Advantages of ExpressVPN :
VPN with no record, with good jurisdiction : ExpressVPN guarantees that it does not keep any record of your activity. It has gone through several public tests that guarantee reliability, this shows that the company really adheres to its privacy policy and terms of use. Another plus is its excellent jurisdiction in the British Virgin Islands, a small entity that is part of the UK but has its own strict data protection laws.
No leaks : in tests carried out, there was no IP leak on Windows and Mac. It also didn't show any leaks on mobile devices.
Good encryption and security features : ExpresssVPN offers many features to its users, such as Network Lock (Kill Switch), split tunneling, DNS privacy on each of its servers, TrustedServer technology and more. Its encryption is AES-256, with Lifgtway, WireGuard, OpenVPN, IKEv2 and L2TP/IPsec protocols.
Apps for all devices : Good and easy to use, ExpressVPN apps are available for Windows, MacOS, Linux and Router. Mobile – Android and IOS. For smat Tvs – AppleTV, Amazon Fire, Roku, Samsung Tvs, Chromecast and more. They also offer browser extensions for Chrome, Firefox and Edge. Video game consoles like Playtation, Xbox and Nintendo Switch.
Works with Netflix and Torrents : ExpressVPN works great with Netflix and other streaming applications.
Servers : Currently they have more than 3000 servers in 160 locations in 94 countries.
Other features : 30-day money-back guarantee, 24/7 live chat support, no activity log, unlimited streaming, global coverage.
Disadvantages :
Among the best VPN on the market, ExpressVPN is the one with the highest monthly price, not pleasing those looking for an affordable VPN service.
ExpressVPN Pricing
Their prices are $8.32/month on the annual plan. 6 month plan is at $9.99/mo and $12.95/mo for monthly lump sum payment. Payment methods with credit card, Paypal, Bitcoin, WebMoney, Klarna, GiroPay and more. Boleto and Mercado Pago are available for Brazilians.
---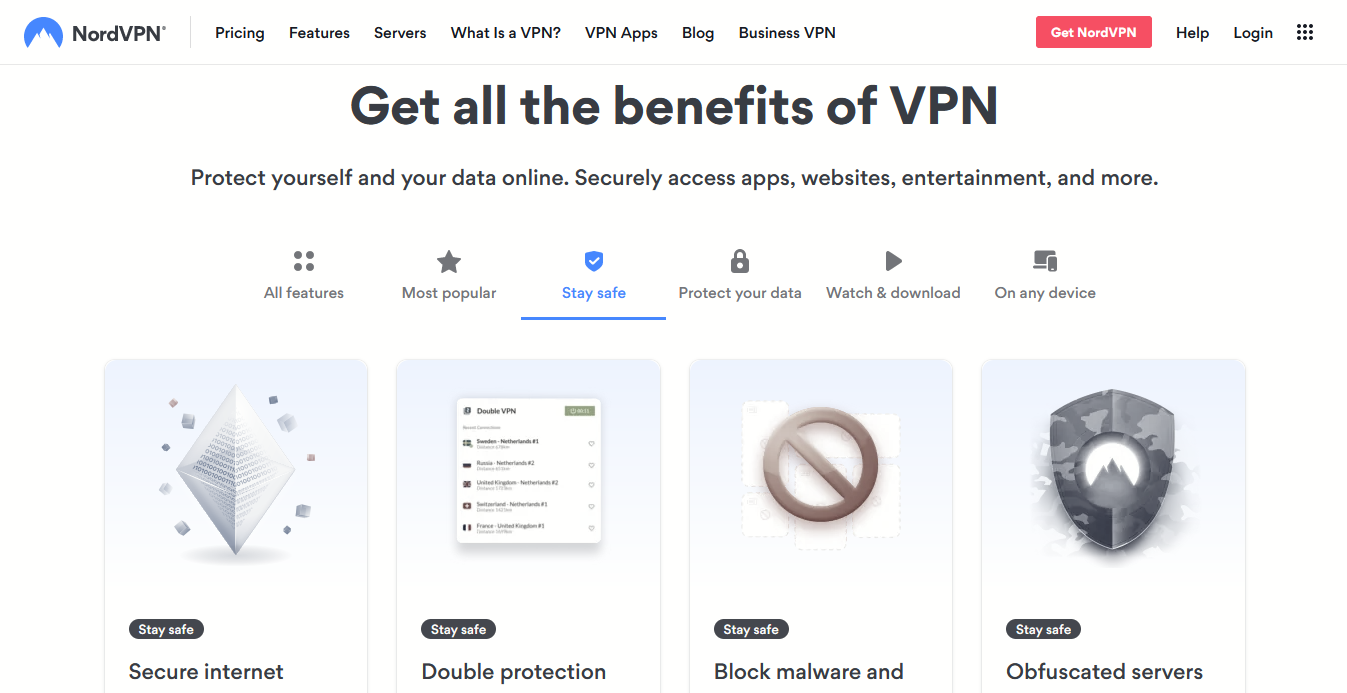 This is without doubt one of the best known names in the privacy industry, founded in 2012 in Panama, NordVPN has built a great reputation among internet users. It certainly couldn't be missing from our list of best VPNs. See what we think is positive about the Panamanian company.
Advantages of NordVPN :
Connection speed : in tests carried out NordVPN presented one of the fastest among the Top VPN. This is great as the download/upload speed is often compromised when connecting via VPN, especially on distant servers.
Many Servers : Currently NordVPN has one of the largest number of servers in a VPN service, totaling 5303 servers in 59 countries, P2P, Onion Network (Tor) and unlimited bandwidth.
Good jurisdiction, no data retention : the company is located in Panama, a country outside the "Five Eyes" international surveillance alliance. The country also has no law that requires data retention. According to its terms of use, NordVPN does not keep data on its users, and this has already been proven by two audits that the company has passed (audited by PricewaterhouseCoopers AG, from Switzerland).
No Leaks, Military Grade Encryption : In connection tests no IP leaks were found. NordVPN's standard encryption is the 256-bit Advanced Encryption Standard (AES), with the following protocols – OpenVPN, WireGuard and IKEv2/IPsec.
Available for many devices : Nord has official apps for macOS, Windows, Linux, Raspberry Pi and Chromebook. Mobile for Android, IOS and Kindle Fire. For smart Tvs Android Tv, Amazon Fire TV and Chromecast. Browser Extensions for Firefox and Chrome. Playstation, Nintendo Switch and Xbox video game consoles.
Great with streaming services : just like the others on our list NordVPN worked well with Netflix and other streaming applications with unlimited bandwidth. The service also supports torrents.
Other useful features : included ad blocker and malware (known as CyberSec), support 6 devices per account, Kill Switch, availability of dedicated IPs, dual VPN, global infrastructure, 24/7 support via email or live chat (with one well-documented help center) and more.
Disadvantages :
It also doesn't provide dedicated apps for routers, but it is possible to install. No refunds for Apple itunes users.
NordVPN prices
Without a doubt NordVPN must be among the best VPN in the world. Their price is not the cheapest, but not the most expensive starting at $3.30/month for 2 year plan (promotional), 1 year plan starting at $4.92/month and single monthly plan at $1195/month.

Your payment methods are: credit cards, Amazon Pay, Paypal and cryptocurrencies. 30-Day Money Back Guarantee/Except Apple App Store.
---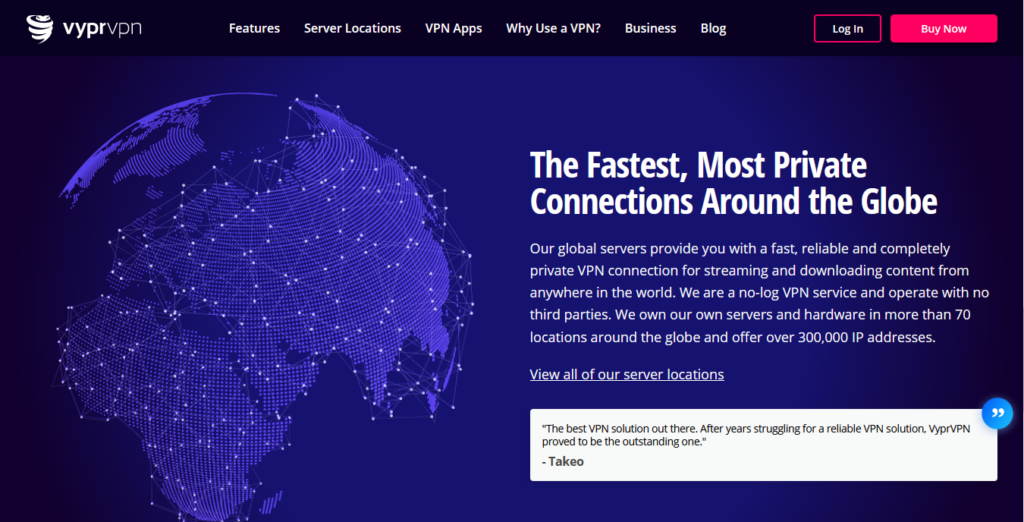 VyprVPN is a lesser-known name in the security and privacy industry, but it has brought big improvements, solid VPN service and global infrastructure. Based in Switzerland, the company is owned by Golden Frog (an independent software company founded by Ron and Carolyn Yokubaitis, veterans of the security and privacy industry). Below are our highlights from VyprVPN.
Advantages of VyprVPN :
Great jurisdiction and privacy : as already said, to be among the best VPN the company needs to be located in a country friendly to privacy. VyprVPN is located in Switzerland, a country with strict privacy and data retention laws. The company claims through its terms of use that it keeps no records of its users' activity, including for torrents and other activities. It has also gone through public audits.
Another positive point is that they don't rent servers from third parties like AWS, Azure (they use their own). This ensures much more privacy and security, as there is no third party taking care of the servers.
No leaks, good encryption : No IP leaks were reported during testing. The company uses industry standard encryption – 256-bit AES with WireGuard, OpenVPN, L2TP/IPsec, PPTP and Chameleon protocols (the latter uses 256-bit OpenVPN and encodes the metadata to avoid DPI, VPN blocking).
Apps for multiple devices : VyprVPN offers apps for Windows PC and macOS. For Android mobile, IOS and Blackphone. For QNAP device provider, Anonabox, dedicated app for Android Tv, Apple Tv and OpenELEC/Kodi routers and smart TVs.
If you want to install on other devices Vypr even offers manual configuration guides for DD-WRT, AsusWRT, OpenWRT, Synology NAS, Boxee and Amora platforms/routers.
Good connection speed : VyprVPN applications showed good stability during testing. The service works well with Netflix, Youtube, Hulu and other streaming apps. Torrent (P2P) is allowed. Remembering that they don't limit bandwidth.
Servers : Vypr currently offers around 700 servers with proprietary infrastructure in 70 countries. All continents.
Cheap VPN : Among the best VPN providers, VyprVPN offered the most affordable monthly fees.
Other features : easy-to-use apps, 24/7 support via live chat or email, zero-knowledge DNS, NAT firewall included, doesn't rely on 3rd party infrastructure, 5 devices allowed per account, Kill Switch and more.
Disadvantages :
Does not provide application for Linux systems, but it is possible to install manually. No payment with cryptocurrencies and less payment methods than other services.
VyprVPN Price
This is the cheapest VPN on our list, priced at $1.67/month for 3 year plan (1 year free), for 18 month plan they charge $2.50/month and 2 month plan for $6.47/month. Payment methods are credit cards and Paypal. 30-day money-back guarantee.
---
These were the best VPN services, according to WPOneapp analysis. Below you will find some more useful resources.
Install VPN on router
Some VPN providers do not provide dedicated router applications, such as NordVPN and SurfShark. But they allow you to install manually. Check below how to install the services mentioned above manually with the official guide of the respective companies.
See the complete guide how to install NordVPN on your router here.
As for Surfshark, they made the guide following this link.
Conclusion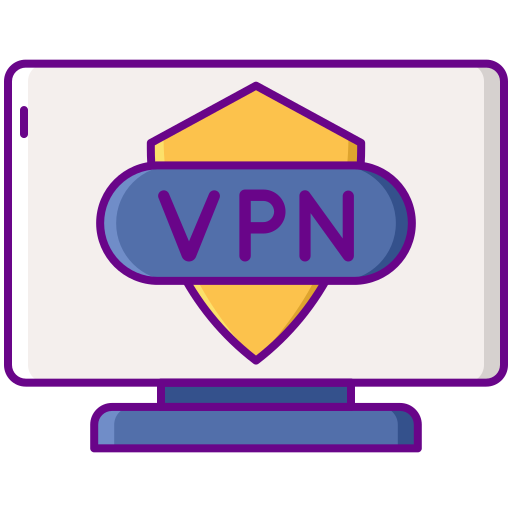 As you've seen, the best VPNs on the market carry some similarities. None of them are perfect, always bringing some downside.
But looking at it from a point of view where certain functions will not be necessary for many users, such as a dedicated application for a router, we can say that any of the above can serve you very well.
The company VyprVPN stands out for a good service, with a very cheap price. NordVPN, for example, will certainly deliver you a very robust service with its more than 5000 servers.
In our opinion Surfshark is the best option for those looking for an affordable price with good resources.
The right thing to say is all of them will suit you well to use with streaming (Youtube, Netflix and others), torrents, privacy without IP leakage, a good jurisdiction and useful resources for those who live in countries like China and Russia that do not allow VPN.
If you liked our best VPN guide, don't forget to share. Thanks.
Icons made by Flaticons